MobileDemand Intros xTablet T7200 Tablet PC
MobileDemand's at it again with a fully rugged Tablet PC. The xTablet T7200 meets MIL-SPEC standards for durability and is built to operate in harsh environments. The tablet runs Windows 7 Professional, which means it runs the same applications users are accustomed to on their desktops and notebooks.
The company introduced its first 7″ Tablet PC, the xTablet T7000, back in 2009. At first glance the xTablet T7200 looks quite similar to the older tablet, but there are some important key differences. Its all-new display will please those that work outdoors, it lasts longer on a single charge and it's more powerful.
This tablet isn't a toy and is geared to companies and users that prioritize durability and reliability. MobileDemand customers include utilities, manufacturers, armed forces, distributors and other field worker-centric organizations.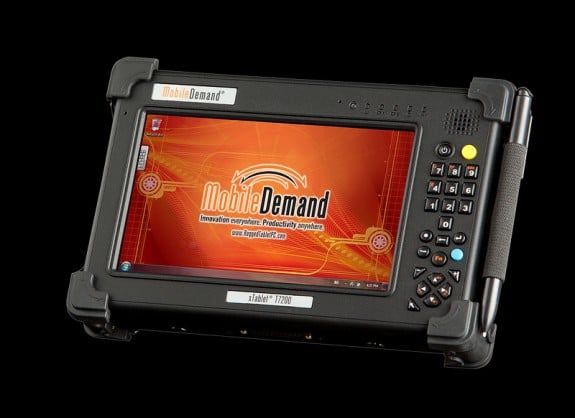 The xTablet T7200 features a 7″ touchscreen display with something MobileDemand calls xView Pro technology. The display is viewable outdoors and helps the tablet's battery run 35% longer than its competition. Built-in sensors detect ambient light and automatically adjust the xView Pro display's backlight to match lighting conditions. In bright sunlight, the xT7200 will enter a high-contrast mode that allows the user to still read the display.
The xTablet can operate in temperatures ranging from -4F to 140F, which might sound extreme to some, but absolutely necessary to others. The tablet has an IP65 sealant rating, which means it can be used in wet and dusty environments.
MobileDemand's new tablet comes with a choice of N2600 or N2800 Intel Atom dual core processors, 2GB RAM and up to a 128GB solid state drive. The xTablet T7200 can be outfitted with GPS, 3G and 4G LTE wireless options, which can be used on Verizon, T-Mobile and Sprint.
There's a full range of accessories for the xTablet T7200, including a full QWERTY keyboard, bar code scanner and credit card reader. The tablet can be docked, which means users can go from rugged conditions to their desks without switching machines. Those who can't afford any down time to charge their xTablet 7200s batteries are hot swappable, which means they can be charged in an external charger and swapped in without powering down. MobileDemand is also selling a vehicle dock with RAM mounting.
The xTablet T7200 starts at $2,000 and is available directly through MobileDemand.

As an Amazon Associate I earn from qualifying purchases.