MobileDemand Poised To Take Advantage of Motion's Killing The LS800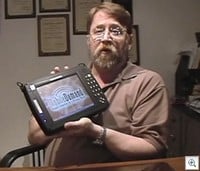 A lot of folks are wondering if Motion Computing will come out with another small form factor Tablet PC now that they have terminated the LS800. Some of that concern is on the consumer side, but I'm sure there are concerns in the vertical markets as well. Remember MobileDemand? They market the xTablet T8600, which is a rugged Tablet PC with dual mode input (both active digitzier and touch screen). In fact, the good folks at MobileDemand have let us know that they are already seeing a number of Motion LS800 customers find their way to MobileDemand to inquire about the xTablet T8600.
I'm not the least bit surprised. I was quite impressed with the xTablet when I filmed this GBM InkShow review earlier this year. (Remember it includes my wife in the infamous shower scene.) And if you want to see some other testing besides me dropping it and tossing it around, check out the video that Matt linked to last week on how MobileDemand does testing.

This article may contain affiliate links. Click here for more details.