MobileDemand xTablet T7000 Rugged Tablet PC is Gobi 3000 Certified
When it comes to mission critical field work, rugged Tablet PCs capable of running Windows and connecting to mobile networks beat consumer tablets.
MobileDemand announced that the rugged xTablet 7000 is Gobi 3000 certified, and capable of connecting to 3G networks globally.
The Gobi 3000 equipped tablets include GPS and the ability to connect at speeds of 14.4 Mbps down and 5.76Mbps up. The xTablet 7000 is certified with Verizon and T-Mobile.
The xTablet rugged Windows tablets are often used in field work, transportation and public sector organizations.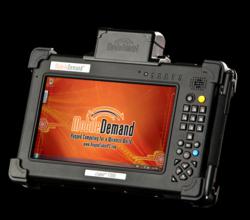 "Many of our customers have field operations that are mission-critical to their business." says, Bob Zink, MobileDemand Vice-President of Sales and Marketing, explaining the need for reliable speedy mobile connectivity. Zink adds, "With the xTablet T7000 with Gobi 3000, they can extend enterprise applications beyond the four walls so that mobile workers can get the information they need to be more efficient and productive at the point of work."
The MobileDemand xTablet 7000 is MIL-STD 810G compliant with an Ingress Rating of IP65, which means this tablet is capable of surviving, pressured water, temperature extremes, rain, humidity, salt, sand, dust, shock, vibration and 26 consecutive drops up to 5 feet.
That's a lot of abuse.
The Red Bull Racing team uses the xTablet 7000 tablets to coordinate on the race track as they prepare for NASCAR races. Check out how they use rugged MobileDemand tablets in the video below.
For more on how these tablets are used by the Red bull NASCAR team, check out our day at the track with Red Bull and MobileDemand, and watch the xTablet 7000 survive abuse at the track below.
—

This article may contain affiliate links. Click here for more details.