MobileDemand xTablet T7200 Review
The MobileDemand xTablet T7200 is a fully ruggedized Tablet PC built for professionals that don't have the luxury of working in cozy office buildings. This tablet means business and packs a several features mobile users will appreciate.
MobileDemand began selling Tablet PCs well before Apple and others popularized consumer tablets. The company builds industrial-strength tablets that run Windows and are usable in just about any environment.
The xTablet T7200 improves on the xTablet T7000, which MobileDemand introduced three years ago. This time around, MobileDemand's improved the display, loaded it with faster components and upgraded its wireless capabilities.
With a starting price of $2,000, the xTablet T7200 is more expensive than non-ruggedized tablets, but it's a relative bargain for businesses that can't afford downtime or that are able to improve processes to a point where the tablets pay for themselves.
The MobileDemand xTablet T7200 is a welcome reminder that it's important to pick the right tool for the job. It isn't the slimmest or lightest tablet available, but its durability and adaptive display make it a smart choice for organizations that need to run Windows applications reliably outside of the office.
xTablet T7200 Durability
Like other MobileDemand tablets, the xTablet T7200 meets military standards for durability. This tablet can operate in temperatures of up to 140 F,  withstand drops onto hard surfaces and repel water and debris.
There were zero marks on our review unit after abusing it for a couple of days.
I dropped the xTablet T7200 onto concrete from a standing position several times and it never missed a beat.
The tablet can be used in just about any weather, including rain of up to 4″ per hour.
xTablet T7200 Display
The xTablet T7200 features a 7″ anti-glare touchscreen display with a 1024 x 600 resolution. The optional digitizer is a must-have to effectively navigate Windows 7 and input text on the go with a display this size. Inking works reasonably well and is fine for  jotting down notes and filling forms. The relatively small screen doesn't provide enough real estate for inking lengthy documents. For that task, users would be better off docking the tablet.
The display features MobileDemand's xView Pro technology, which automatically senses ambient light and adjusts the backlight to keep the display readable both indoors and out. The backlight turns off completely when in direct sunlight, putting the display into a high-contrast mode. The transition is seamless, which means there's one less thing for xTablet users to worry about when moving in and out of vehicles and buildings.
The above video is a quick demo of the xTablet T7200's display automatically adjusting to match ambient light.
xTablet T7200 Hardware Features:
The xTablet T7200 is noticeably snappier than its predecessor thanks to a faster processor (Intel Atom 1.6Ghz or 1.8GHz).  The tablet comes with either a 32GB, 64GB or 128GB solid state drive, which is important for both performance and durability.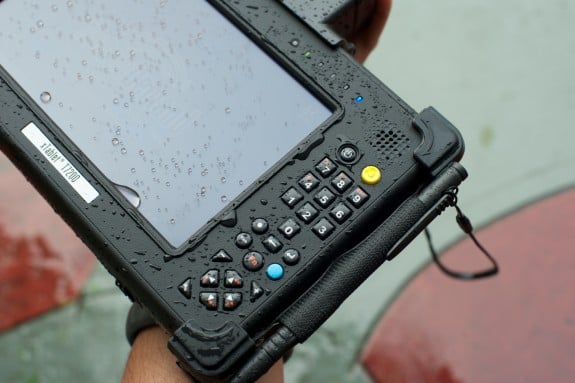 The xTablet T7200 has a backlit numerical and directional keypad that can be used when inking isn't practical.
The top of the device has a bar code scanner and expansion slot that can be outfitted with a 4G LTE or GOBI module. The yellow button at the top of the keypad activates the bar code scanner. The 4G LTE option is the way to go since the technology transmits data faster than most home Internet connections.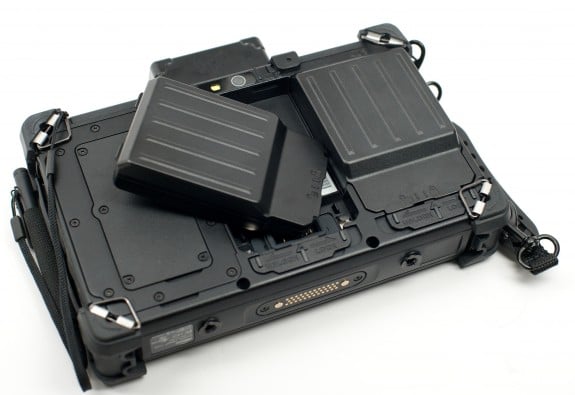 The xTablet T7200 comes with twin batteries that can power the device for 6 to 10 hours on a single charge depending on screen brightness and other factors. An optional external battery charger can charge a pair of extra batteries in five hours. The batteries are hot swappable, which means the tablet never has to be shut down to load it up with freshly charged batteries.
At 2.5lb, the xTablet T7200 definitely has some heft to it, but there is a  sling on the back to make it easier to use it with one hand. There's also a carrying strap on the tablet (right) that makes it easier to lug around.
There's a 5MP camera with an LED flash on the back of the tablet. It can help users illustrate notes to their bosses with photos and videos that are of about the same quality as what we see from smartphone cameras.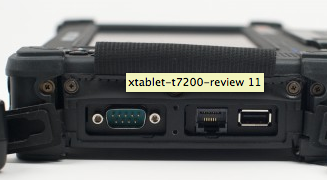 The right side of the xTablet T7200 has Serial, Ethernet and USB ports underneath protective seals to connect to wired networks and peripherals.
The left side of the xTablet T7200 has a Kensington lock slot   The base of the tablet has a docking connector that can connect to an optional QWERTY keyboard.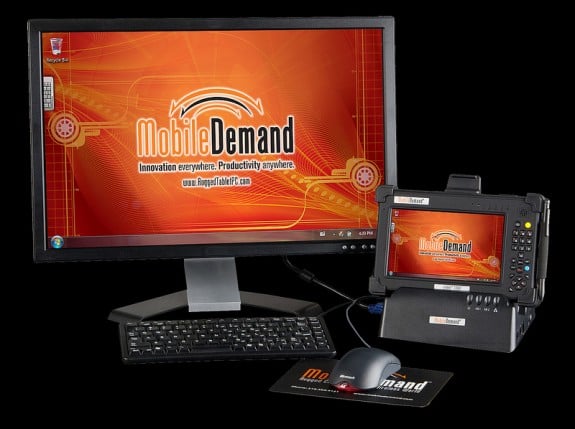 One advantage of the xTablet T7200 over consumer tablets is that it can transition to a full-blown desktop solution, which means users can work on the same machine whether in the office or in the field. While this kind of setup doesn't offer the same kind of computing brawn as a desktop tower or notebook with beefier specs, there's plenty of power to run productivity applications. The SSD really speeds things up to a point where it doesn't feel like you're using an Atom-powered machine.