MobileNoter: I Want to Love This iPad App But I Can't Yet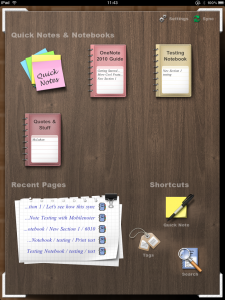 Arrrrgh! So close but yet still not quite there yet. I really want to like MobileNoter. It's an iOS App (iPhone, iPod Touch, and iPad) that lets you sync files with OneNote. Yep, that's right, it lets you sync up files with OneNote. OneNote is a great app on the Windows platform for note taking and a must have if you use a Tablet PC. It's also the greatest secret Microsoft insists on keeping a secret for some reason. We've talked about MobileNoter before and every time the App gets an update, I get excited and think, maybe this is the update that pushes it over the top. But that just hasn't been the case. So far.
Like I said, MobileNoter will work on your iOS devices, and the version that really keeps me hoping is the one for the iPad. Here's how it works. You install the App and install an application on your OneNote machine. Through the settings of this Application you've got some choices to make. First you have to choose whether or not you want to use the WiFi or Cloud Sync version. The Cloud Sync version requires that you use the MobileNoter servers and is a paid service (it costs $1.25 a month.) The WiFi version requires that you be on the same network to sync. With the cloud service obviously you have more opportunities for syncing when you are out and about.
The next choice is which OneNote Notebooks to sync. Choose wisely here especially if you're using the cloud service as this can take awhile if you've got large Notebooks with lots of data, even if you're only syncing up a minor change or two. The MobileNoter folks haven't gotten this part down yet, and that's a real bummer, and a big part of my frustration. Not only is the sync slow, if you're using the product a lot, but even though it is advertised as two-way sync, I find that that isn't always the case. More on that later.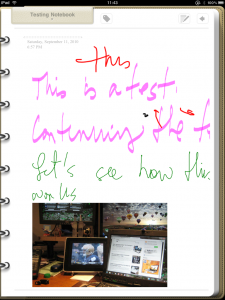 On the iPad side, you'll see the OneNote Notebooks you've chosen to sync over, and can access the various note within them. The formatting looks very much the same. One of the exciting aspects about the last MobileNoter update was that you could now use Digital Ink to markup these notes once they were synced to your iPad. Here's where those two way sync issues come in. Some notes marked up with Ink on the iPad sync over just fine, some do not. I'm not sure what I'm doing wrong here, but I find that frustrating and ultimately defeating. While MobileNoter lets you mark up and Ink on your notes, it doesn't have any sort of wrist protection or palm rejection built in yet, which also, in my usage, defeats it as a note taking app on the iPad.
Another issue is the QuickNotes feature. As you would imagine, this is for jotting down a quick note and then being able to sync it over to OneNote. Well that works if you're using the keyboard to make those notes, but not with Digital Ink. I'm also frustrated by the fact that the date stamp of each note has a nice little drawn line underneath it, hinting that you could use a stylus to make a note, but that's not the case. Hopefully an update will add this functionality down the road.
I'll keep working with MobileNoter and hoping for better things with future updates, but for now, it just isn't an App I can stay excited about on the iPad. That said, if you're an iPhone (or iPod Touch) user, and all you want to do is have a readable version of your OneNote files on your hand held device, that version of the App works quite well for that functionality. I understand the MobileNoter folks are coming out with an Android version soon, and I'll be anxious to see the reactions to that. In the meantime, I hope you enjoy the InkShow on MobileNoter.