MobileNoter Releases v 1.0 adds Subscription Model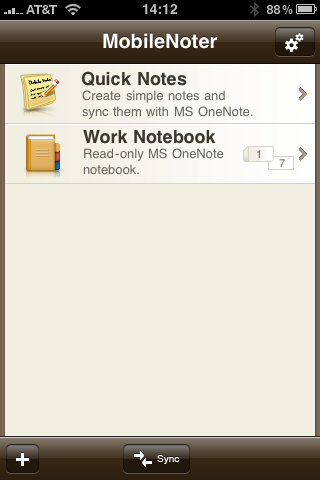 MobileNoter is one of those iPhone apps that I've been following and testing with keen interest. Why? Because it allows me to sync OneNote data to my iPhone. I'm a huge OneNote fan and love that application. I often call it Microsoft's biggest secret that they want to keep a secret because there is so very little said about it from Redmond. Here's hoping that changes when the 2010 version is finally released. I'm currently using the OneNote 2010 Technical Preview and love it.
But back to MobileNoter. Version 1.0 promises a host of changes and bug fixes. It also comes with a price tag. While the iPhone app is a free app, in order to take advantage of the syncing functionality (which is the point), you need to subscribe to the service. There is a 7 day trial for those who were in the beta or using this before the 1.0 release. I guess that means if you're a new user there is no trial.  The way MobileNoter works is that OneNote data you want to sync (you get to choose the notebooks you want to sync) goes to the MobileNoter servers in the sky. That data is then synced to the iPhone version. So in essence you're paying for the cloud storage and bandwidth. It isn't expensive. At the moment it is priced at $15 a year. A 3 month subscription runs you $5.
In testing the new version, everything appears to be working as advertised. Do note though that if you had a previous version installed that you'll have to reset some settings as well as the your data on the server side in some instances after upgrading to the new version. You have to update both your desktop/notebook/netbook/tablet client as well as the iPhone app.  The landscape text entry mode on the iPhone is a nice addition, and I'm sure the encryption will be a plus for many. There is now support for section groups and subpages.
The one thing that I hope happens in a new version is that you could enter a new note in any OneNote notebook that you were using as opposed to just the Quick Notes section. That said, being able to jot down a quick note and have it sync back to OneNote is a plus.
Inevitably this will get compared to Evernote, which I also use extensively. There is no question that Evernote is much more fully featured and much more capable on so many levels. That said, if you don't use Evernote and are a OneNote fan than MobileNoter at least gives iPhone users a solution to work with their notes on the go.
Below is a list of the new features.
Landscape mode support in iPhone app
Search in OneNote notebooks (search is available only when 'Combine pages with sections' setting is enabled)
Support of section groups
Support of sub pages
Improved navigation in OneNote notebooks. It is possible to collapse sections now. This is controlled on the app level in settings form
A passcode lock for the iPhone app. You can set a passcode to protect your data on iPhone. The app asks for it on start
Optional data encryption. Data can be encrypted using a user-defined key. The key should be entered in both applications, it is not transmitted over the network. We use AES-256 to encrypt your data
Proxy server support
Swipe to delete a QuickNote
QuickNotes synchronization logic was rewritten. The old implementation did not handle some situations, like difference in system time between iPhone and PC
A new graphic design in the iPhone app