MobileSketch V3 released by Apex Software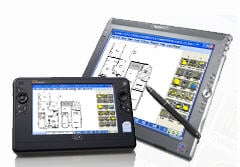 For those who frequently draw sketches while in the field, Apex's MobileSketch migbt be a product that you need to check out:
Apex Software, the standard in sketching in the real estate valuation market, announced today the release of MobileSketch(TM) Touch Tablet Version 3.
MobileSketch Touch Tablet was designed to empower users to quickly and easily draw sketches in the field using a Tablet PC or Ultra Mobile PC. Version 3 is designed to take full advantage of the functionality and form factor of the mobile device making it an invaluable tool to mobile professionals.
"Our goal was to eliminate the need for the clipboard," said Randall H. Garrett, President and CEO of Apex Software. "With MobileSketch v3, mobile professionals don't need anything more than their Tablet PC to get their job done faster and more effectively."
MobileSketch contains the most commonly used features from both previous versions and the Apex desktop application. Additionally, MobileSketch features have been fine tuned to address mobile usability including a high-contrast user interface for optimum viewing in the field.
"MobileSketch represents a dramatic step forward for the mobile professional," stated Robert Smoote, Apex Software's Vice President of Product Management. "MobileSketch v3 incorporates full-featured integration eliminating the need for the desktop solution as its conduit for data exchange with other applications on the same device."
Via BusinessWire

As an Amazon Associate I earn from qualifying purchases.