ModBook Tablet available for pre-order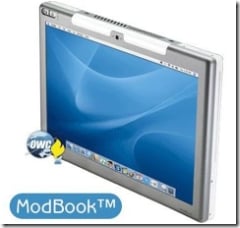 GBM forum member Jeffyo just picked that Other World Computing has the ModBook available for pre-order. You don't have to provide a credit card number, either. They are taking pre-reservations. Pre-reserve prices start at $2199 for a 13.3″ AnyView Wide Screen with iSight built-in, with other pre-configured specs going for $2399 and $2699. All pre-reserve prices include built-in GPS.
Here are complete specs at the $2399 price:
Mac OS X 10.4

2.00 ghz Intel Core 2 Duo (yep – a core 2 duo slate)

Intel Graphics 950

Built-in iSight

Apple Remote

802.11g and Bluetooth

1gb of 667mhz ddr2 SDRAM

80gb 5400 rpm hard drive

SuperDrive

Anyview 13.3 Wide Screen

ForceGlass Screen & Camera Cover

Wacom Penabled Digitizer

Built-in WAAS enabled GPS
Anyone planning on buying one? The Mac guy in me is just salivating at the opportunity to try out a slate Mac tablet. Hopefully OWC will be getting us an eval unit for review and we can pass along our thoughts on this one.

As an Amazon Associate I earn from qualifying purchases.