Mojang Shares Minecraft for Xbox One & PS4 Details & Discounts
After informing early Xbox One and PS4 buyers that there would be versions of their  Minecraft building game that has swept the world and inspired millions of independent developers, today developer Mojang announced that Xbox One and PS4 buyers can expect a version of Minecraft to arrive in August for their respective platforms. It also confirmed that those versions of the game will be cheaper for buyers who meet a certain criteria.
Mojang made the announcement about Minecraft for Xbox One & PS4 earlier today along with a few more details about how the game will work. According to the post on the developer's blog, the game worlds that Minecraft on Xbox One & PS4 users can expect are larger than what users currently get in the Xbox 360 and PS3 versions. That's great since avid Minecraft players like to build large worlds that could take up more space than the current version available through the Xbox 360 and PS3 allow. That's a limitation that the PC and Mac versions of the game don't share.
Speaking of building complicated things in Minecraft, Mojang is making it incredibly easy for longtime Minecraft users to upgrade to the Xbox One, PS4 and PS Vita versions when they arrive sometime in August. Users will be able to port their worlds over to the newer version easily. Unfortunately, they won't be able to sync different game worlds between some of the titles to do complications with making worlds larger and shrinking them.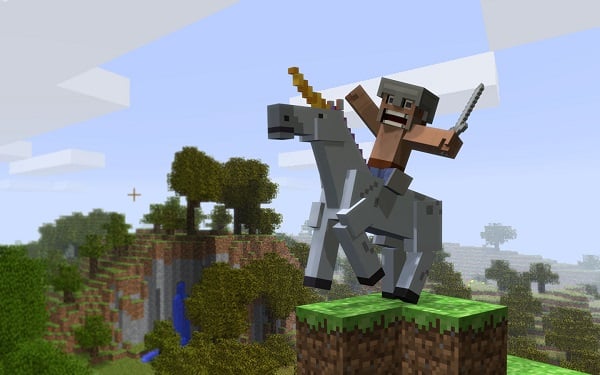 Mojang says it'll do the right thing by users and offer discounted versions of the game to those who've already purchased Minecraft for Xbox 360 and PS3. Xbox One and PS4 owners who are new to the franchise will be charged the full $19.99 purchase prince in the Xbox Games Store and PlayStation Store. Users who own the 360  and PS3 versions of the game already will be able to download the Xbox One and PS4 versions of the game for $4.99. That the game will cost users anything certainly is great. After all, the two different games aren't really that different from each other. Still, that Mojang is trying to make upgrading a bit more reasonable is a good thing.
Mojang says that it'll make this special upgrade pricing for everyone for the next year, well into the life cycle of the Xbox One and PS4. Users will not be able to transfer play with the same game saves on both the Xbox One and Xbox 360 versions of the game. Once they've transferred a world to the Xbox One version, they'll need to start over rebuilding it on the Xbox 360 if they want to play there.
Users who own a copy of the PS3 version of Minecraft will get the PS Vita version absolutely free along with the related downloadable content. Users will be able to start a game world on the PS3 and continue working on it on their PS Vita. These versions of the game together will cost $19.99 and any texture packs users have will work between the two. The same won't be true of the PS4 version or the Xbox One version.
Mojang says that some but not all of the skin packs users have downloaded from older versions will transfer. That's because some of the skin packs are tied up in legal agreements with third parties.
Essentially, Microsoft and Sony are using Minecraft to lure those interested in indie-games to their platforms. To be clear, Minecraft isn't really an independent game any longer, it's sold millions. Still, it's inspired thousands of developers to create their own games and millions of kids and adults to create unique worlds that they just wouldn't be able to make in other games. To date, Microsoft says 12 million Xbox 360 users have purchased Minecraft. In fact, the game has become such a huge phenomenon that some schools are using it to teach computer skills in the classroom.

As an Amazon Associate I earn from qualifying purchases.