Mokacam Takes on GoPro as the World's Smallest 4K Camera
Today, at CES 2016 in Las Vegas, MokaCam confirmed its tiny 4k capable video camera will finally start shipping next month. While there is no shortage of small compact sports or action cameras on the market today, finding something comparable to the GoPro without spending $300-$400 is hard to do.
Mokacam is doing that and more, with what it calls the "world's smallest 4k camera". It's small enough to fit in a pocket, but don't let the small size fool you, this camera has a lot going for it.
After a successful Indigogo campaign in November and December to raise funding, the tiny action camera with tons of capabilities, a modular design, and more is finally ready for the big stage. Here's what potential buyers need to know about this extremely small and well-rounded 4k camera.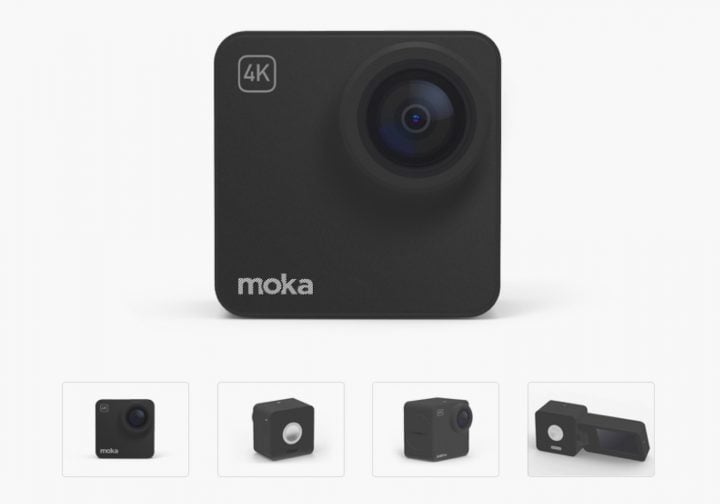 The Mokacam is a tiny little 45mm x 45mm cube capable of 4k video recording at 15FPS like the GoPro Hero4 Silver, but doesn't do 30 FPS like the Hero4 Black. However, it has tons of other features that more than make up for that one shortcoming.
Inside the tiny modular frame is a powerful 16-megapixel sensor and 152-degree wide-angle lens. It features motion detection, a rotating screen that can be attached via the modular magnet on back, which doubles as another primary feature. The magnet is strong enough that users can simply drop it on the hood of a car, or any metal. No mount required in some situations. The company also sells add-on battery packs that simply latch onto the magnet for extended battery life. It has built-in WiFi, accessories like waterproof cases or mounts, and the best part is the price. This capable little camera is only $169. Here's a comparison showing what the Mokacam offers over the GoPro lineup.
The software side is pretty feature-packed too. Users can record regular video, 4k video, snap photos with the 16 megapixel wide-angle lens, turn on motion detection so it only records when motion is detected, and there's only two buttons for ease of use.
Early-bird units for those who joined in on the funding last year are shipping soon for $99, and the retail price is still extremely favorable costing just $169. Mokacam announced today at CES that units will begin shipping in early February. More details can be found at their website.

As an Amazon Associate I earn from qualifying purchases.