Mom Gets an iPhone 4, It's All About Facetime
My dad picked up an iPhone 4 a couple of weeks ago and has dived right into using it. My mom had been poking around at it curiously, all the while insisting that she didn't need one. It became pretty obvious that she'd like one of her own so we decided to buy her one for her birthday. She's very pleased with it so far and I can't wait to see how she ends up using it.
One of the first things that she asked about was Facetime. It took us all of 30 seconds or so to show her how to place or receive a Facetime call. After the very brief demo, she asked if she could use Facetime with anyone. She might not be able to place calls to anyone, but she can place calls to the people that matter most- her husband, sons, daughter-in-laws and grandsons. For her, Facetime is the killer app, even though we all live close to each other.
While many in the tech community are panning Facetime as just another video conferencing application, Apple has successfully managed to market something to mom where Skype, Apple's iChat team and others have failed.  She's only used iChat's video chat feature a handful of times, all of which required prior planning. Her iMac's webcam has a piece of paper taped over it after reading an alarmist article about how hackers can watch people at home via webcams.
A few hours after mom unwrapped her iPhone, she headed over to a hotel/resort at the foot of the Golden Gate bridge with my father and their pets. Their African Grey parrot doesn't get out all that much, so a room with a view of the bridge was a special treat. Sure enough, mom called to share the moment of her bird  enjoying the view of the Golden Gate. She gave me a quick tour of the room as well.
The relative simplicity and integration with OSX are the main reasons the iPhone 4 is the only smartphone I'd consider buying for her. Anyone in our family can give her a hand to get up to speed with the iOS4, including my nephews. AT&T has also put forth a serious effort in getting new cell sites set up in San Francisco, which means dropped calls are actually a rarity in our neighborhood now.
Facetime is far from perfect, but it's good enough for everyday consumers to get excited about it. I can already tell that this is one feature that she won't give up when she needs to upgrade or replace her iPhone 4 down the line.
As Warner Crocker pointed out, we're all early adopters these days. It's no longer just us geeks playing with gadgets fresh off the assembly line. People like my mom are in on the game, and there are a lot more of them than there are of us. Over the next few years I think more technology companies are going to follow Apple's example of focusing on what can be done with a device rather than trying to teach the world how it works. For people like my mom, it's all about Facetime and she couldn't care less about what kind of processor runs her phone, if the app store is 'open' enough or if there's another device that has a couple of advantages over hers.
Welcome to mobility mom.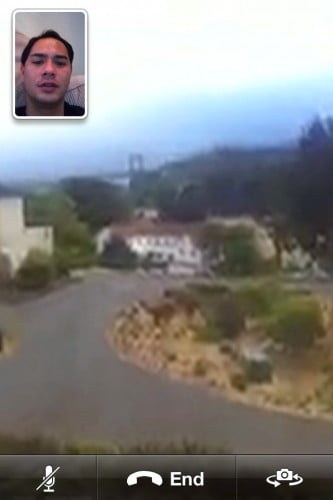 As an Amazon Associate I earn from qualifying purchases.