Moms Want iPads Instead of Flowers for Mother's Day
A new survey says that mothers want tech for Mother's Day, and most of them want an iPad over everything else.
The survey comes from TechBargain, so the results obviously going to skew towards tech. In the survey, 91 percent of mothers said they'd prefer an iPad to flowers for Mother's Day. We assume the other 9 percent already have an iPad of their own.
The survey also says that 31 percent of mothers would like a tech gadget for Mother's Day, but only 11 percent will actually get one. Despite mom's preferring tech over everything else, many will have to deal with flowers. According to the survey, 26 percent of moms will receive flowers for Mother's Day while only 13 percent actually want flowers.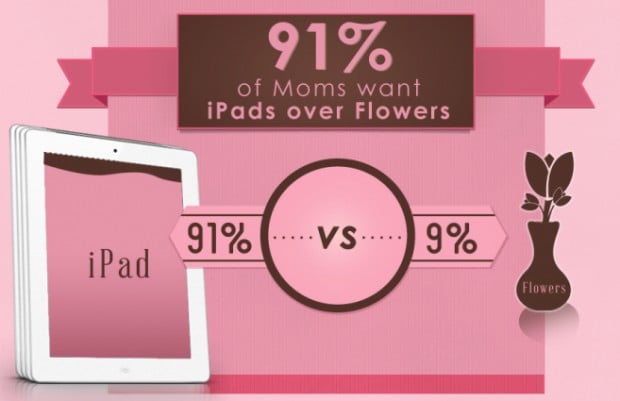 It's not all about iPads, though. While 51 percent of moms want a tablet for Mother's Day, others want smaller, generally less expensive tech. Of the moms surveyed 16 percent said they want an MP3 player, 9 percent want an e-reader, and 4 percent want a digital camera. Some moms (14 percent) also want a laptop, but laptops tend to cost a bit more than the $500 iPad or $400 iPad 2.
The iPad is most common among moms who want a tablet. 58 percent of moms want an iPad for a tablet, compared to just 18 percent who want a Kindle Fire. We don't know the other options, though they probably also include the Nook Tablet.
Perhaps the most surprising part of the survey is that it says moms are tech savvy. According to the survey, only 42 percent of moms are not tech savvy, with 39 percent knowing basic gadget use. Although, as we mentioned, the survey came from TechBargain, a tech website.


As an Amazon Associate I earn from qualifying purchases.