Mophie Announces Rugged Juice Pack Pro iPhone Case for $130
Mophie has a new iPhone battery case out just in time for summer adventures, the Juice Pack Pro.
The new Mophie Juice Pack Pro is a rugged iPhone case that protects the iPhone from water, dust, drops, vibration, and shock while offering an extra battery. The case exceeds the military spec MIL-STD 810G. The extra battery offers 150 percent more power for the iPhone 4/4S, which should make getting through the day, and possibly a second day, easy.
With a 2500 mAh battery, the Juice Pack Pro is the largest battery case Mophie has ever made. Like the company's other battery cases the Juice Pack Pro charges via USB, and lets users charge and sync the iPhone even when it's still in the case. Unlike other Mophie battery cases, the Juice Pack Pro also covers the front of the iPhone for added protection.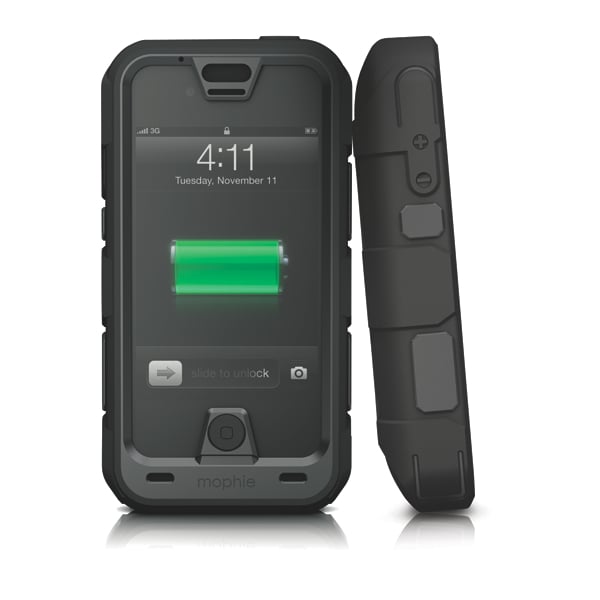 Mophie also recently released the Powerstation Pro which is a rugged external battery. The external battery has a lot more power than the Juice Pack Pro, and is still dust, water, and shock proof. It can charge any device over USB, but that means running a cable from the battery to the device. Unfortunately, it's the only option for extra power from Mophie for those who don't have an iPhone.
The Mophie Juice Pack Pro is arguably the best alternative to cases like the ones from Otterbox. We're not sure how the Juice Pack Pro compares to the new Otterbox Armor Series, but the inclusion of the battery might make it more appealing to some users. We'll find out just how appealing the battery case is soon in a full review.
The Mophie Juice Pack Pro is available now for $130.

As an Amazon Associate I earn from qualifying purchases.