Mophie iPhone 6 Plus Case Review
The Mophie iPhone 6 Plus case delivers a big boost in battery life to the larger and already long lasting iPhone 6 Plus without adding a lot of bulk.
There is a fine line to straddle when adding any weight or thickness to the iPhone 6 Plus and the Mophie iPhone 6 Plus Juice Pack hits the sweet spot by adding a 2,600mAh battery to the big iPhone without making it too big to actually use.
Mophie claims the iPhone 6 Plus Juice Pack delivers more than 60% added battery life and that claim lives up to our tests. While the iPhone 6 Plus can last a full day of heavy use on it's own, for many users there are still some days where you need more power to get through an important or hectic day.
Enter the $99 Mophie iPhone 6 Plus battery case that comes in silver, black or gold to match the iPhone 6 Plus colors.
It is easy to take the iPhone 6 Plus out of the Mophie Juice Pack if you like to switch between cases, but the overall design of the case means it is thin and light enough to use as an every-day iPhone 6 Plus case. This iPhone 6 Plus battery case measures 3.27 x 6.85 x 0.57in and adds 3.9oz to your iPhone 6 Plus.
When it comes time to charge the iPhone 6 Plus this case doesn't pack as much portable power as the iPhone 6 Mophie Juice Pack Plus, but it will get you through almost any day. The best time to use the power is to go from 20% battery left up to 80% where iPhone charging is most efficient. When you use it this way you'll get at least one full boost of power out of the device, possibly a little more. Part of this comes down to if you are using the iPhone 6 Plus while charging. It's best not to use the case to keep your phone at 100% because it uses the power faster.
A small set of four LED s on the back of the Mophie iPhone 6 Plus Juice Pack shows the amount of battery life left in the case and a toggle switch turns charging on and off. There is a Micro USB slot on the base of the case to charge the case and your iPhone 6 Plus with. When plugged in to power the iPhone charges first and the case second. The case also supports passthrough so you can sync to iTunes and connect to car entertainment systems with a Micro USB cable, instead of taking the iPhone out of the case like on previous models.
Because you can sync and charge with the same cable you don't need to bring a Lightning cable with you like many of us did with the iPhone 5 and iPhone 5s cases. Mophie includes an improved Micro USB cable that is about three-feet long with a tapered connection so you know which direction is up.
The design necessitates a larger gap between the headphone jack and the edge of the case, so you will need a headphone adapter for bulky or L shaped headphone plugs. The standard Apple Earpods plug in fine without the adapter. The speaker now ports forward to direct sound at you. This improves the volume slightly without impacting quality or using more battery life.
While this design is not as rugged as the iPhone 6 Juice Pack Plus, rubber padding and a tough glossy plastic can protect your iPhone 6 Plus if you drop it. Plastic button covers make the power and volume buttons easy to use and the opening for the mute switch is big enough to accommodate large fingers with short fingernails.
Users looking for an iPhone 6 Plus battery case that delivers a healthy recharge, a very nice design and premium materials need to consider buying the Mophie iPhone 6 Plus Juice Pack for $99. Mophie will soon offer a desktop charger for the iPhone 6 Plus in this case, a car mount, hip case and belt clip.
7 Awesome iPhone 6 Plus Cases
Spigen iPhone 6 Plus Cases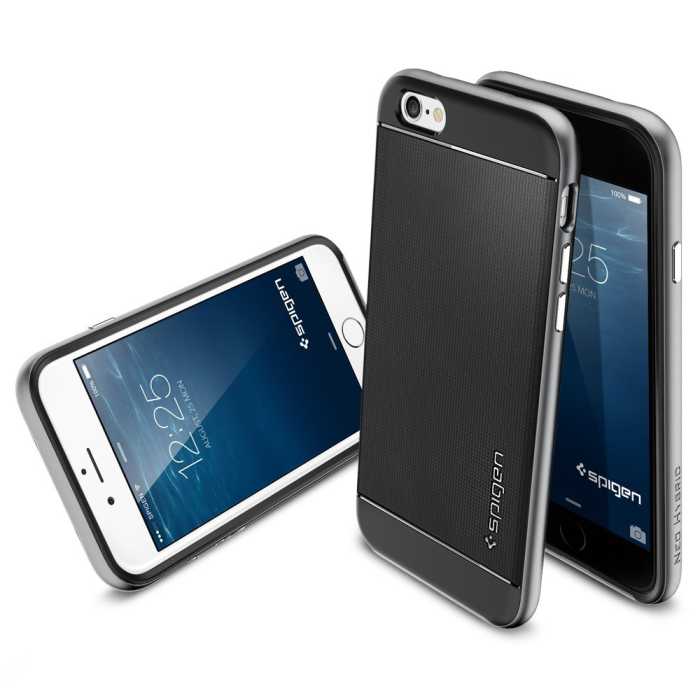 If you need an affordable iPhone 6 Plus case, Spigen is one of the best options you will find. Spigen offers a wide variety of iPhone 6 Plus cases from super thin to protective options and even a few iPhone 6 Plus wallet cases.
The company also offers an iPhone 6 Plus case with a kickstand, which is an excellent way to easily use that big screen for movies, videos and FaceTime.
Check out all of the Spigen iPhone 6 Plus Cases on Amazon starting at $7.99.