Mophie Juice Pack Plus for iPhone 5 Review
The Mophie Juice Pack Plus for iPhone 5 is Mophie's third iPhone 5 battery case, and boasts the largest external battery Mophie offers.
The Mophie Juice Pack Plus holds a 1200 mAh battery gives users an extra 120 percent battery life according to Mophie. In practice it's hard to say it can give a full 120 percent more battery life, but it does make the iPhone 5 last quite a long time.
Charging from a dead battery the Mophie Juice Pack Plus is able to bring an iPhone 5 back up to 100 percent battery after two hours with a tiny bit of juice left. What's left it just enough to raise the battery percentage by a few points, but it's still quite impressive.
However, Mophie recommends that users turn the battery case on when their iPhone 5's battery reaches 20 percent and turn it off when the phone reaches 80 percent. In practice it was hard to stop exactly at 80 percent without constant monitoring, but that method was able to charge the iPhone 5 twice. The second charge brought the battery percentage to about 65 percent.
With moderate phone use (web browsing, checking Twitter, taking photos and playing casual games) the Mophie Juice Pack Plus for iPhone 5 can get through most of a three-day weekend. Over Memorial day weekend I didn't have to plug in my iPhone 5 until mid-afternoon on Monday.
The case itself is very similar to the Mophie Juice Pack Air for iPhone 5. It's a few millimeters taller and wider, but it's only noticeable when the two cases are side-by-side.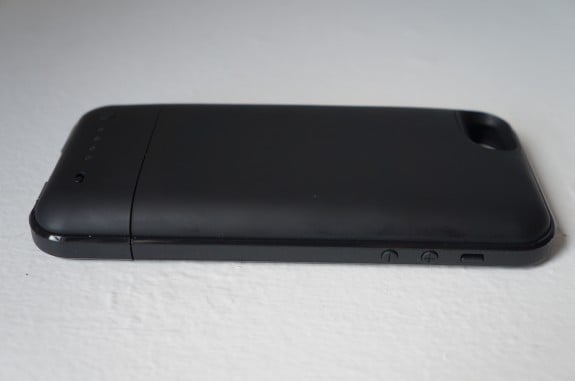 The only big difference is the strip around the sides of the device. On the Juice Pack Air the strip is all metal, while the Juice Pack Plus' strip has a sort of rubberized grip. It feels strange at first, but soon starts to feel natural.
For $119.95 the Mophie Juice Pack Plus for iPhone 5 is the best battery case Mophie makes for the iPhone 5. It might be the best iPhone 5 battery case available at the moment.

As an Amazon Associate I earn from qualifying purchases.