Mophie Juice Pack Powerstation and Juice Pack Powerstation Appear in Berlin
Mophie showed off a pair of battery packs for iPhones at Showstopers, an event at IFA 2011 in Berlin. The two iPhone accessories have not been officially announced yet, but Mophie reps were showing them off as a sneak peak.
Both the Mophie Juice Pack Powerstation and Mophie Juice Pack Boost are designed for iPhone users who find themselves running low on battery power before the end of the day, but who don't want to commit to a bulky Juice Pack, an iPhone case that doubles as a battery pack.
The design of both battery packs is heavily inspired by Apple's iPhone 4.
The Juice Pack Boost is the more compact of the two. It has a 2000mAh capacity and has a built-in iPhone adapter that flips up. It charges via a USB cable.  The Juice Pack Boost doubles as an iPhone stand on a flat surface.
Mophie's Juice Pack Powerstation has a capacity of 4000mAh. That's plenty of juice to recharge an iPhone 4 twice and then some. It doesn't have a connector for the iPhone built in, but it does have a standard USB port. The advantage of this setup is that you can charge just about any small device so long as you have the appropriate USB adapter.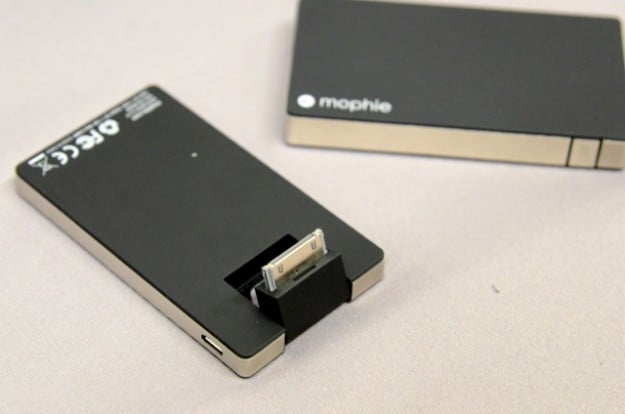 I've used my Mophie Juice Pack Air on my iPhone 4 quite a bit in the past, but I swapped it out for an OtterBox Defender case for added protection. These two new Mophie products will allow iPhone 4 users like me to charge our phones without removing our favorite cases. Another benefit of the new Mophie battery packs is that they can be used with any iPod or iPhone, including whatever Apple offers up next.
The Juice Pack Powerstation will cost about $80 and the Mophie Juice Pack Boost will cost about $60. They will hit Apple Stores worldwide in time for the holiday shopping season.