Mophie Outride Turns iPhone Into a GoPro-like Sports Camera
Mophie's latest iPhone accessory is a case for the iPhone 4 and iPhone 4S that turn the smartphones into sports cameras like the GoPro.
The new Mophie Outride is a waterproof case that protects the iPhone and adds a wide-angle lens for shooting sports video. The case is waterproof up to five meters and will also protect the iPhone from drops. Outride also adds camera mounts to the iPhone and comes with a variety of accessories to attach the iPhone to sporting equipment like a bike.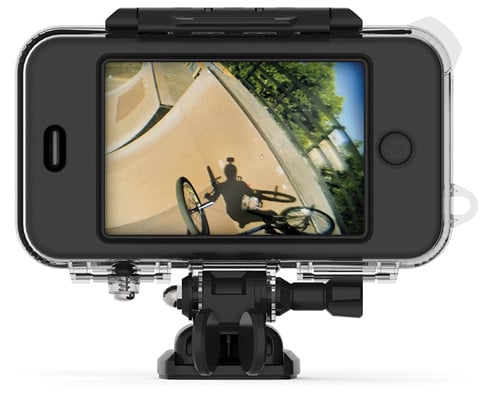 Mophie also created an app and social network for Outride users which lets users easily upload and share video shot with their Outride case. The app also makes it easy to discover new videos from other athletes, and even some professional athletes who use the case. Users who want to share their videos with a larger audience can sync the app to their YouTube account for easy uploading.
At $149.95 the Mophie Outride isn't cheap, but it's still cheaper than the least expensive GoPro Hero 3 which costs $199.99. The Outride also makes it easier to upload video using the device many already have, instead or requiring a new device. It's a more affordable option for amateurs who want to record some actions shots, but who don't want another device.
The Mophie Outride is currently only available for the iPhone 4 and iPhone 4S, with no mention of an iPhone 5 model. There's isn't much difference between the camera in the iPhone 5 and iPhone 4S, so there's no big lack of quality in using the older devices, but it is disappointing for users who switched to the iPhone 5, and sold their old iPhone but still want to use the Outride.
There are other options for turning an iPhone into a sports camera without the Outride. Another method is to use a Lifeproof case and Lifeproof's GoPro mount adapter, though that is also only available for the iPhone 4S.

As an Amazon Associate I earn from qualifying purchases.