Mophie Powerstation Plus Review
The Mophie Powerstation Plus is a perfect match for the new iPhone 7, especially for those who use Bluetooth headsets and other accessories. AT $79, the Powerstation Plus is a premium external batter that is worth the money. Read on to learn more about the Powerstation Plus and why it earned a GottaBeMobile Editors' Choice Award.
The new iPhone 7 is amazing, but it simply won't last all day on a single charge if you're using it to its full potential. If you lug around a wall charger and spend too much time tethered to a power outlet, you should consider buying an external battery pack like the Mophie Powerstation Plus.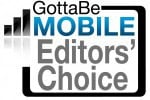 The Mophie Powerstation Plus earned a GottaBeMobile Editors' Choice Award after I used it with my iPhone 7 and iPhone 7 Plus in the real world for a month. While I have several external batteries scattered around my home, I now grab the Powerstation Plus almost every time I walked out the door.
The Powerstation Plus is available at Amazon.com, Mophie.com and  Apple retail stores. Be sure to look for the 2016 version of the Powerstation Plus as Mophie's older Powerstation Plus models don't have all of the features mentioned below.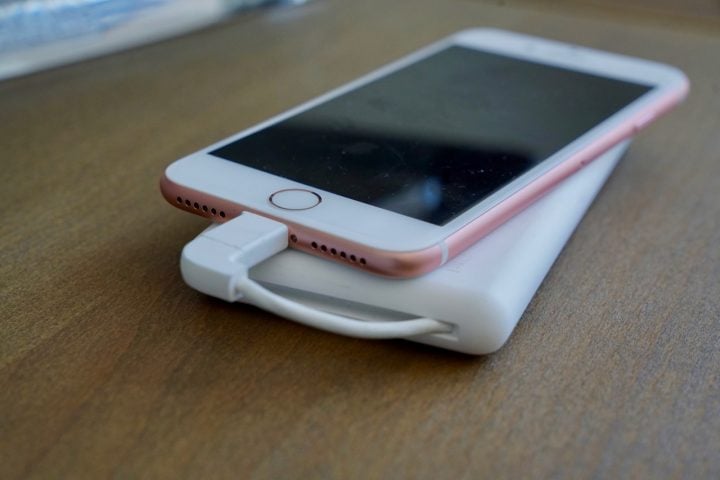 I've purchased several of Mophie's previous-generation battery packs, but this new Powerstation Plus that Mophie sent over is my favorite so far. While it is a little thicker than I'd like, it's much thinner than Mophie's older boxy battery packs with integrated charging cables.
At 6,000 mAh, the Mophie Powerstation Plus has enough juice to charge an iPhone 7 almost three times and an iPhone 7 Plus twice. Mophie does sell a thinner version of the battery pack called the Powerstation Plus mini, which packs 4,000 mAh, but the extra thickness alleviates my low-battery anxiety.
The Mophie Powerstation Plus has about the same footprint as the iPhone 7 and is available in rose gold, gold and gray. As you can see  in the above photo, the rose gold Powerstation Plus matches the rose gold iPhone 7. I especially appreciated its clean looks when charging my phone on restaurant tables.





So why do I carry the Powerstation Plus rather than other battery packs I've accumulated over the years? Primarily because it has an integrated cable that has both an Apple Lightning charging tip and a micro USB tip. That means I can charge my iPhone and other gadgets with the same battery pack without having to carry any cables.  Most other battery packs require an external cable to charge an iPhone and a micro USB cable to charge headphones or other devices. Over the past month I've used the built-in cable to charge my iPhone 7, iPhone 7 Plus, Sennheiser headset, iPad Pro, Zagg slim book pro keyboard, Samsung Gaalaxy S7 and my Sony RX 100M4 camera.  I can't emphasize how much I love doing away with a tangle of charging cables when I'm on the go.
The Powrstation Plus outputs 2.1 AMPs of energy through its charging cable, which means devices will charge just as fast as when using an iPad power adapter.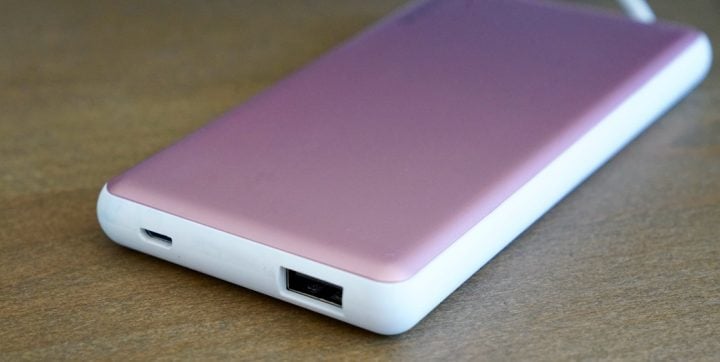 If you happen to have a device that uses something other than a Lightning port or micro USB port to charge, you can simply plug the appropriate charging cable into the battery's USB port. The battery will charge two devices simultaneously. The only time I used the battery's USB port was to charge my Apple Watch.

I found it comfortable to use both the iPhone 7 and iPhone 7 Plus while charging with the Mophie Powerstation Plus. I prefer using external batteries compared to battery cases, which add bulk, even when they are depleted. I primarily use the Powerstation Plus when I stow my devices are in my pocket or bag and only charge while using my iPhones in a pinch.
Mophie includes a micro USB cable in the box to charge the Powerstation Plus. When connected to a computer or power adapter, both the battery and any connected devices will charge. I would prefer if I could charge the Powerstation Plus with a Lightning cable.
While I think this is an excellent product, some users will understandably have a hard time swallowing its $79 price tag. The smaller Powerstation Plus mini is a bit more reasonable at $59. If you rarely need to recharge on the go, then I don't recommend investing in a premium battery pack such as this. If you're constantly charging one device or another, then I recommend spending the extra $20 to $30 and getting a Powerstation Plus.
Read: Best iPhone 7 Cases 

As an Amazon Associate I earn from qualifying purchases.