Mophie's New External Batteries Are Slim, Charge Two Devices at Once
Mophie has a pair of new external batteries: a small version that fits in a pocket, and a larger version that can charge two USB devices at once.
The two new batteries are part of Mophie's Juice Pack PowerStation line. The smaller battery is the PowerStation Mini, and the larger one is the PowerStation Duo. Both devices have a similar black plastic and aluminum design that seems based on the iPhone 4 design, though there are slight differences between the two.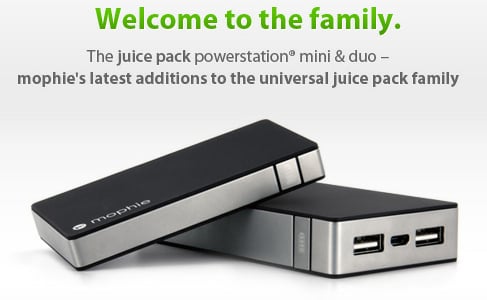 The Mophie Juice Pack PowerStation Mini is a slim external battery that can charge any device through USB. The battery can fit in almost any pocket easily. With its 2500 mAh battery, users can carry at least one full smartphone charge in their pocket at all times. It sounds like the perfect companion for Android users or iPhone users that don't want the added bulk of an iPhone battery case.
The Mophie Juice Pack PowerStation Duo is a much larger battery that can charge up to two devices at once. The PowerStation Duo holds the same 6000 mAh battery as the PowerStation Pro, though it isn't as rugged. The Duo exchanges the rugged durability for an extra USB port so users can charge a second device at the same time. It's perfect for charging a smartphone and tablet at the same time, though it will probably only fully charge the smartphone.
Both external batteries are available for purchase now. The PowerStation Mini sells for $59.95 and the PowerStation Duo sells for $99.95 ($30 less than the PowerStation Pro).

As an Amazon Associate I earn from qualifying purchases.