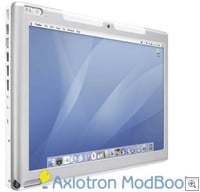 This won't be welcome news to those waiting for the ModBook. Apparently those looking for a little Tablet-Mac action will have to wait a bit longer. Axiotron and Other World Computing are now saying that there is another delay, this time until the 4th Quarter of 2007. Although you can still pre-order, which seems a bit odd with that sort of delay.
If you recall the ModBook was previously delayed from its intitial launch target with news that they were increasing the pressure sensitivity. That delayed May 2007 target has now come and gone and it looks like there will be more wait and see mode ahead. I won't use the ""v" word yet. But I'm getting close.
Via Ars Technica

As an Amazon Associate I earn from qualifying purchases.