More Destiny House of Wolves Details Arrive
It's taking a bit, but we're finally learning more about House of Wolves, the add-on pack and set of extras coming to Bungie's Destiny role-playing game in May. Newly revealed information includes details about a new social zone, weapons upgrade system and more.
Bungie discussed the Destiny House of Wolves add-on content at length yesterday in a live broadcast on its Twitch profile. Twitch is the social network and video streaming website that lets users broadcast video game clips and more. Users can then rewatch that video if the broadcaster chooses, which Bungie has.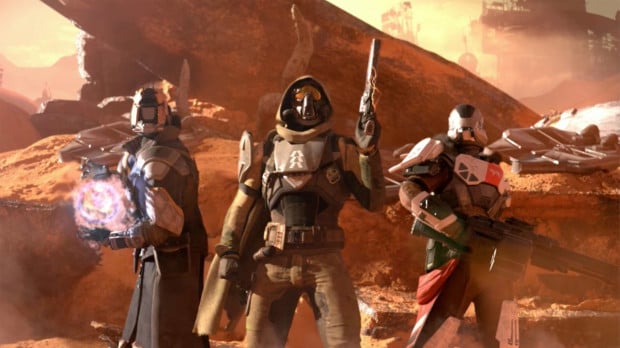 Following the Destiny House of Wolves add-on you are able to upgrade any weapon you want using Etheric Light. Etheric Light will allow Destiny players to continue to use their favorite weapons long after they would have been forced to give them up before the update. In theory, a good weapon or piece of armor should last a player all the way to max level. We're talking about roughly 365 max-damage, according video game website Polygon.  
Being able to hang on to your armor a lot longer is probably the biggest feature of House of Wolves. Earning and crafting weapons in the game was great, but they simply went to waste when they were no longer effective against enemies. Collecting resources will still feature heavily since you need the Etheric Light to upgrade your weapons. To get what Bungie calls Legendary equipment uses will need to find Glimmer in addition to Etheric Light. Glimmer is another resource added in this game. Etheric Light will only drop in content added in the Destiny House of Wolves expansion pack. That includes the Trials of Wolves, Nightfall, Iron Banner, and Prisoner of Elders content.
The stuff users need to upgrade their weapons and armor will be available at the Tower, including Shard exchanges. Users can reconfigure their weapons at the Tower by visiting the Gunsmith too.
Anyone who doesn't own the Destiny House of Wolves content will be able to find Etheric Light in the Iron Banner and reach level 34. Theoretically, it'll just take them a lot longer.
House of Wolves will be the second major content update to come to Destiny since it launched last September. In addition to revealing details about the weapons system Bungie also provided a look at the Reef and the new social zone coming in House of Wolves. This new area won't replace Tower, the main social zone since launch, but will provide unique story missions of its own directly related to the Fallen. The Reef also has its own set of unique characters.
Read: Destiny House of Wolves Release Date Revealed 
At it's core, Destiny is an online role-playing game with first-person shooting combat style. In the game you take on the role of a Guardian. It's your job to defend the last remaining pieces of civilization. As you complete more single player missions and take on more missions with your friends you earn resources and experience that you pour back into your character. The more you participate, the more well equipped your character becomes.
Anyone who purchased a basic disc or digital copy of Destiny last year will need to purchase the House of Wolves DLC on its own or pick up an expansion pass that gives them the House of Wolves content and the Dark Below content for $35. Buying each separately would cost $40.
Destiny is currently available on the Xbox One, Xbox 360, PS3 and PS4. It's not available for PCs running Windows.

As an Amazon Associate I earn from qualifying purchases.