More Exciting Batman: Arkham Knight Details Arrive
Video game developer Rocksteady Studios is giving gamers another look at the key players they can expect when Batman: Arkham Knight release day arrives this coming June.
An eight minute video showing the main characters of Batman: Arkham Knight was posted by Rocksteady Studios to its Batman Arkham YouTube page early this morning. Batman: Arkham Knight is expected to be this summer's biggest game. As its name suggests, Batman: Arkham Knight puts players in control of the Batman. A dizzying array of gadgets and thugs await players in the city of Gotham.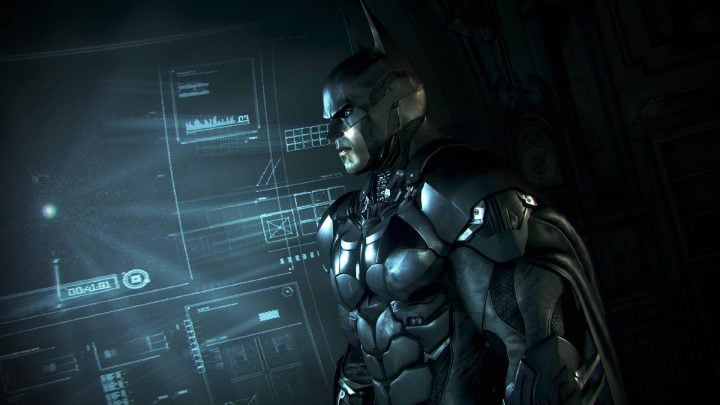 The video breaks down tons of the players characters will see in the final version of the game. Besides a description of each villain and hero, the video's host provide some detail about their motivation. For example, the Arkham Knight is described is the commander of a huge army of mercenaries. We're also treated to video footage of each of the characters, something we haven't necessarily seen a lot of since the game was announced. The Arkham Knight is Batman's chief antagonist in this game.
Scarecrow, the militia forces and Batman himself are all included in the video. The Batmobile is also a point of focus. Rocksteady says it redesigned Batman to fit with the Batmobile for this game. In a question in answer session during the video, Rocksteady Studios employees revealed that the Batmobile will be upgradable, just like Batman himself. In particular players will be able to use in-game experience points they earn to upgrade the weapons and launch Batman faster and farther.
Batman: Arkham Knight is the first game in the long-running super-hero franchise to feature a playable vehicle. An older version of the famed car was seen in Batman: Arkham Asylum, but users only opened the trunk to retrieve a crucial gadget. The Batmobile in this game has two modes, one that is built purely to keep down on travel time and another to stop enemies with. Players will be able to call on the Batmobile when they need it on the streets of Gotham.
Launching June 23rd, Batman: Arkham Knight is expected to be the summer's biggest release because of its pedigree and upgrades. The first game in the series, Batman: Arkham Asylum redefined adventure and super-hero games. Before that title, superhero games were an afterthought; they generally were a relative cheap ploy by video game studios to capitalize on a license.
Rocksteady's attention to detail and an engaging story convinced millions that the franchise was worth emotionally investing in. That the gameplay made you actually feel like the Batman didn't hurt either. Batman: Arkham City, mostly followed the same formula, dumping users into a walled off section of Gotham defenseless. Players had to get their gear, investigate reports of the Joker's demise and stop the villains inside Arkham City from destroying the rest of the city. A new assortment of gadgets and refreshed favorites like a remote control Batarang were included in this game.
Batman: Arkham Knight was originally scheduled for release last year.
Read: Batman: Arkham Knight Season Pass Details
A basic copy of Batman: Arkham Knight will cost $60 when it arrives on store shelves and in the Xbox Store and PlayStation Store. Ordinarily buying that version would be fine, but Rocksteady and publisher Warner Brothers are promising months of content for those who pick up the $100 version of the game with a season pass. Another campaign featuring Batgirl are among the things included in that season pass. Challenge rooms and themed racing courses are among the extras included in the Batman: Arkham Knight season pass.

This article may contain affiliate links. Click here for more details.