Fixes for Windows 10 Upgrade Problems Arrive
With another week gone and the first month of release officially behind them, late yesterday Microsoft released another round of fixes, including a patch designed to fix Windows 10 upgrade problems being reported by users.
Microsoft is rolling out a set of new updates to the free Windows 10 upgrade today. The three updates address everything from what Microsoft calls the Windows 10 Out of Box Experience to adding a new toggle for those who don't like automatic app updates in its new Windows Store. The updates are delivered automatically to anyone and everyone who has Windows 10 installed already; the operating system doesn't allow Windows 10 Home users to complete disable security and functional upgrades like previous versions of Windows 10 did.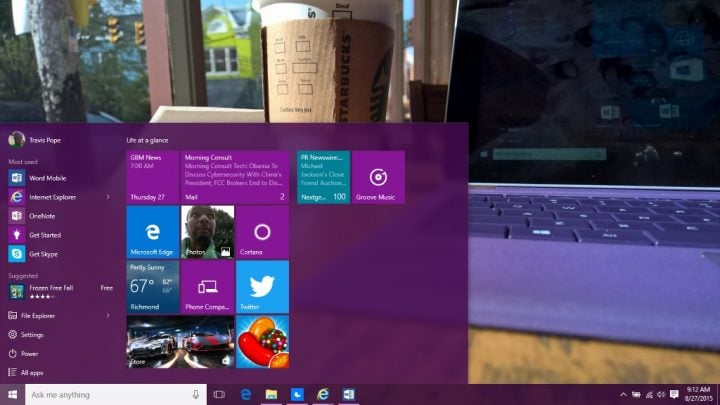 The August 27th 2015 Compatibility Update for Upgrading to Windows 10 is what Microsoft is calling this latest update to address Windows 10 upgrade problems. This update could address any number of issues related to getting Windows 10 running on a PC previously running Windows 7 or Windows 8.1. For example, it's confirmed that leaving some anti-virus programs on when starting the upgrade can cause a boot loop for some users. Others are reporting that their free Windows 10 upgrade failed, despite the upgrade system checking their PC to make sure that the upgrade would go fine ahead of time.
We don't know what specific Windows 10 upgrade problems this addresses because Microsoft doesn't provide details on exactly what patches do for Windows 10. "This update makes improvements to ease the upgrade experience to Windows 10," the update summary reads on Microsoft's website.
Microsoft doesn't provide a lot of details for this week's other two updates either. The Cumulative Update for Windows 10: August 27, 2015 "enhances" the functionality of Windows 10. It's without a doubt, an update designed to address problems users have reported since Windows 10 launched back in late July. Again, with this update users don't have a choice but to install it. The third and final update improves the process of first setting up a Windows 10 PC. That's aforementioned Out of Box Experience update.
Read: 7 Windows 10 Upgrade Problems & How to Fix Them
Early reports are that the Cumulative Update for Windows 10 that's out this week does do more than fix Windows 10 problems. Those who've already installed the update report being able to turn off automatic updates for apps in the Windows Store.
That's a huge change, as many believed Microsoft's stance on app updates was the same as Windows 10 updates themselves. Apparently, the company simply needed to fix an issue with the feature. Before the Cumulative Update for Windows that's out this week, the toggle to turn off automatic Windows 10 updates is there, but not something that users can control. For those who want more granular control over what makes it on to their machine, it's a great addition. Anyone who doesn't visit the Windows Store frequently is better off leaving this automatic app updates enabled.
Microsoft says that 75 million devices are currently running Windows 10. How those numbers breakdown between new PCs purchased and upgrades remains unclear, but it's a victory for the company nonetheless. Microsoft is hoping to get as many people as possible onto Windows 10 by giving the update away for free and building an ecosystem around it. For example, Windows 10 offers integration with OneDrive, Office 365, Groove Music, Xbox Live and the Windows Store.
With the free Windows 10 upgrade now available for everyone, Microsoft is planning to update the operating system on an on-going basis with new features and upgrades. This week, the company also released a new version of Windows 10 for members of its Windows Insiders Program. That update has colored titlebars for Windows apps. Rumor is that Microsoft will unleash another round of feature upgrades on Windows 10 users this October.

As an Amazon Associate I earn from qualifying purchases.