More iOS 6 Rumors Point to Do Not Disturb and iCloud Tabs
New iOS 6 rumors say Apple is bringing a few Mountain Lion features to the next version of iOS.
According to 9To5Mac, Apple is bringing iCloud Tabs, Mail VIPs and Do Not Disturb to iOS in the next major update. Each of the features are already part of Mountain Lion, making them the first OS X features to come to iOS. If they prove true.
Previously Apple has focused on bringing iOS apps like Notification Center, Game Center, Notes, and Reminders to the Mac.
For us, Do Not Disturb is possibly the biggest feature of the three rumored. The feature lets users stop notification alerts and banners for a time so they're not distracted from the task at hand.The feature is already present in the  OS X Mountain Lion Beta.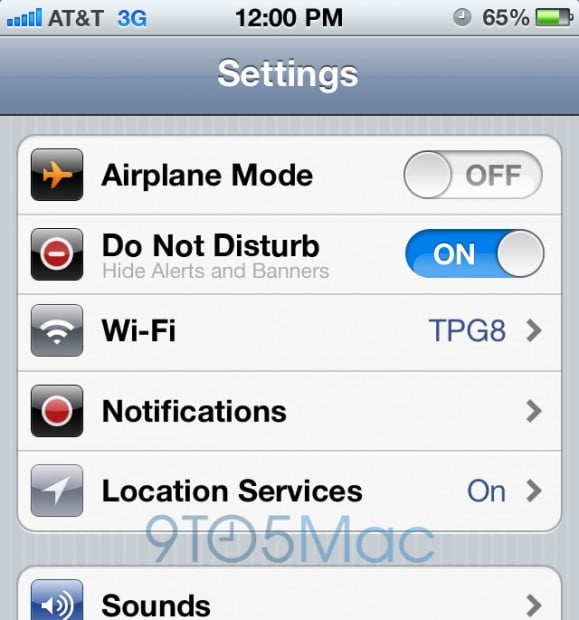 The Mountain Lion feature is in the Notification Center, but will be in Settings in iOS 6. It should help iPhone and iPad users be more productive with fewer distractions.
iCloud Tabs, as the name implies, syncs tabs between browsers in OS X and iOS using iCloud. Unlike other browsers such as Chrome, however, the tabs aren't automatically opened on any devices. Instead users need to tap or click the iCloud Tabs icon to view the tabs on other devices in a list.
On the iPhone and iPod touch the iCloud Tabs option will be in the bookmarks menu. For users who constantly have many tabs open on their Mac or PC, not opening the same tabs in every device is probably a good thing.
Apple introduced Mail VIPs in the first Beta of Mountain Lion. The feature lets users put stars next to contacts in the Mail app, making it easier to find emails from those contacts later. The feature sounds almost like Priority Inbox in Gmail, but not quite. It's great for users who constantly need to search for email from particular contacts, but not a huge feature for other users who prefer to use Sparrow as their main mail app.

As an Amazon Associate I earn from qualifying purchases.