More Lego Dimensions Playsets Get Surprise Reveal
Video game maker Warner Brothers and toy company Lego already revealed the Lego Dimensions play sets and video game that's planned for launch later this year. Now we're learning more about the characters and toys the company has planned for launch besides the figures it already mentioned, thanks to a new leak.
Lego announced Lego Dimensions last month, but it's only today that we're getting a complete look at the roster of characters and settings it and Warner Brothers plans to deliver. News of these play sets didn't come by a press release, but were published as a PDF document for how to build the Lego Dimensions Back to the Future play set, found by Lego enthusiasts site Brickset.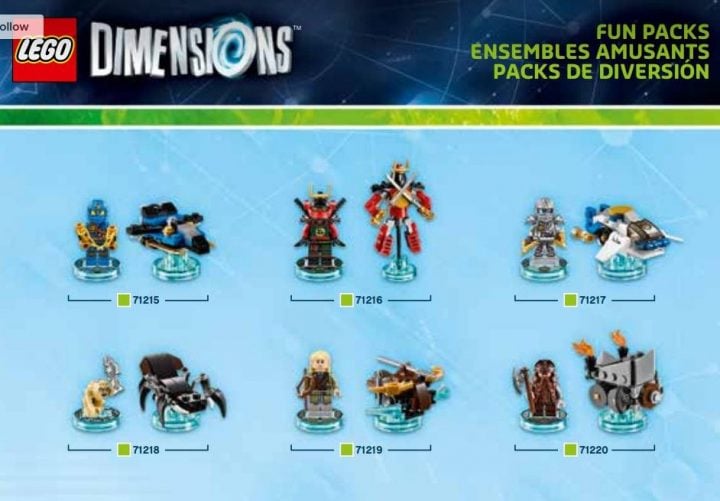 Joining that play set will be figures and toys inspired by the hit television shows Ninjago and Scooby Doo Where Are You. The upcoming movie Jurassic World will get its own Team Pack as well. Lego Dimensions Team Packs don't just include a single character. Buyers get two characters, plus two objects for use in the game.
When it launches, Lego Dimensions will also have Level Packs available for users. Instead of adding new objects, Level Packs will come complete with a single character, two objects and a new in-game world to play in. Lego Dimensions will launch with four separate Level Packs it seems. There's a Doctor Who Level Pack that appears to unlock a British city and includes the Tardis vehicle that's seen in the show. There's also a setting from Portal 2, a puzzle/action video game from Valve. A Back to the Future Level Pack comes complete with hoverboard and time traveling car. There's also a Simpsons Level Pack that includes, a television, Homer Simpson, his pink car and unlocks his house as a play area.
Finally, there are the Lego Dimensions Fun Packs. Wonder Woman and her invisible plane are included in a Fun Pack. Bart Simpson and what appears to be a go-kart are included in another. The Lego Dimensions Fun Packs focus on a single character and a vehicle; there are 18 individual Lego Dimensions Fun Packs revealed in this leak.
Read: Are Lego Dimensions the New Amiibo & Skylanders Craze?
Presumably, these sets will launch this year, but that much remains unclear since this is leak and not something Warner Brothers and Lego are ready to talk about yet. We expect to hear more about Lego Dimensions at this year's Electronic Entertainment Expo in Los Angeles this coming June.
Lego Dimensions is another sandbox game that allows users to unlock new in-game locations to play and new power-ups by purchasing real-world figures. Really, it seems similar to Activision's Skylanders toys and Nintendo's Amiibo figures. Mainly, the only difference we know about is how the figures themselves will be created. Amiibo and Skylanders figures are already assembled when players get them home. Lego is hoping that potential buyers will enjoy assembling their figures before they drop them in the game. The move does make sense, Lego has created toy playsets that kids can build and configure themselves for years.
Purchasing a Lego Dimensions Starter Pack that includes a few figures, the portal to used to get characters inside the game and a disc-based copy of the game will cost $99.99. GameStop already has Lego Dimensions Star Packs available. We don''t yet know how much any of these individual Level Packs and Fun Packs will cost. Lego Dimension will be available for owners of the Xbox One, Xbox 360, PS3 and PS4.
Read: Disney Infinity 3.0: 3 Things to Know
When it debuts this fall, Lego Dimensions will have more than just Skylanders and new Amiibo action figures to contend with. The newly revealed Disney Infinity 3.0 upgrade is also on its way. Disney is pulling out all the stops for Infinity 3.0 by even including Star Wars themed figures in every boxed copy of the game.

As an Amazon Associate I earn from qualifying purchases.