More Media Publishers Jump On the Windows Presentation Foundation Bandwagon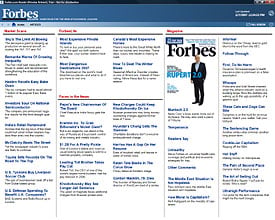 Microsoft announced today that three more companies have taken advantage of the Windows Presentation Foundation (WPF), the advanced graphics technology that is a part of the Windows Vista OS. Associated Newspapers Ltd, Forbes Inc, and Hearst Corp are the publishing companies that join the New York Times in offering content in this digital format that combines the look and feel of traditional print with a digital interface that allows user interaction. The publications initially offered will be The Daily Mail (Associated Newspapers), the Forbes.com Reader, and the Seattle Post-Intelligencer (Hearst Corp.)
Using the New York Times Reader as a starting point (and indeed a Beta) Microsoft has built a publisher starter kit allowing other companies to similarly take advantage of the digital format.
Intriguingly last night I put the final touches on a Software Inkshow featuring The New York Times Reader, in which I commented that I would love to see more traditional print companies take advantage of this method of content delivery, but I speculated that if every publisher created their own unique app, it might prove cumbersome in the long run. The good news, I guess, is that we are seeing more companies interested in doing so. Time will tell, if my hesitation proves true or not.

As an Amazon Associate I earn from qualifying purchases.