More New Xbox One Experience Showcased
Ahead of the New Xbox One Experience and Xbox One Backwards Compatibility release next week, Microsoft is giving users a final taste of what they can expect with two new videos.
Microsoft posted what is expected to be its two final videos detailing the New Xbox One Experience today on YouTube. The New Xbox One Experience is a software update that extends and remixes the features that were already available on the Xbox One. What's more, it adds support for Xbox 360 games and a Guide that lets users create parties or change crucial settings from wherever they are. The update is a stark contrast from the software that's available on the Xbox One already. It's often seen as slow and clunky. Microsoft says that users should be able to do things faster than before with this new software update. That's something Gotta Be Mobile can confirm that is the case.
The company says that gamers can expect the update on November 12th.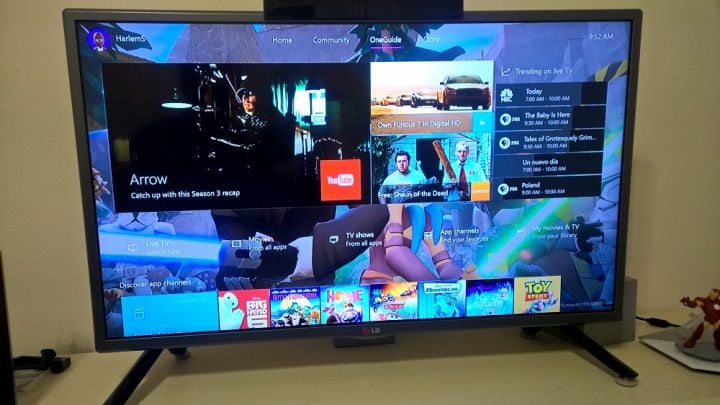 Today's video showed off the last two pieces of the software update: The Xbox Avatar app and the Xbox OneGuide area.
The New Xbox One Experience brings with it a return of Xbox Avatars. Avatars are cartoon-like representations of each user. The idea is that each Avatar is specific to the person that created it and that no two Avatars are alike. Users could customize their Avatar with unlockables and purchase new extras for their Avatar on the Xbox 360, but Microsoft left Avatars behind when it designed the Xbox One Experience that exists today. Users can customize their Avatar, but can't purchase new items for them. They don't show up in the interface at all.
Avatars are sprinkled throughout the New Xbox One Experience, surfacing in Gamerpics and inside the Xbox One software. Most often, they show up in the new Community area when the console first starts up. Microsoft says its done some work to make Avatars look better than the lower resolution versions users had in the past.
Read: Xbox One Backwards Compatibility Release Date Revealed
The new OneGuide is a wholesale redesign of what was already available on the console. The OneGuide has always been accessible from any part of the Xbox One interface. Apps could add links to videos and music there, but it primarily focused on the console's Live TV functionality.
The New Xbox One Experience plasters the OneGuide beside the Home screen for everyone to see. There, it showcases any live television that's trending, plus Channels made up of video from installed apps. Users can favorite a Channel. The actual screen show shows users what is airing in real time still takes up the entire screen, but Microsoft compromised by giving users picture-in-picture too. Doing so allows users to browse through channels while still enjoying the channel that they're on.
There is one surprise in store for video lovers. Microsoft says that it'll integrate the Sling TV service directly into OneGuide, letting users browse through channels and see what's on there instead of using the lackluster guide that's in the app today. Unfortunately, the blog post doesn't provide a release date for this feature. Microsoft has plans to let users record broadcast television and watch it from their smartphones and tablets too. We do know that this feature isn't coming until 2016. The company confirmed that during its GamesCom 2015 Media Briefing.
The New Xbox One Experience is a free update that'll go out to everyone with an Xbox One console and a connection to Microsoft's Xbox Live service. Like all updates for the console, this one is expected to be mandatory for everyone. Choosing not to install previous updates forced users to play games offline only.

This article may contain affiliate links. Click here for more details.