More PlayStation Vue Support Coming Soon
Owners of Sony's PS4 could see the console's most impressive entertainment feature get a wider launch within the next few weeks. According to Sony's Andrew House, the PlayStation Vue livestreaming television service that it has been working on is due for release very soon.
The Wall Street Journal is reporting that House said PlayStation Vue would get a wider launch very soon. House heads up Sony Computer Entertainment, the team in charge of making the entire PlayStation experience available to users living worldwide. According to the report, we should see PlayStation Vue launch in the "next two weeks" in new markets.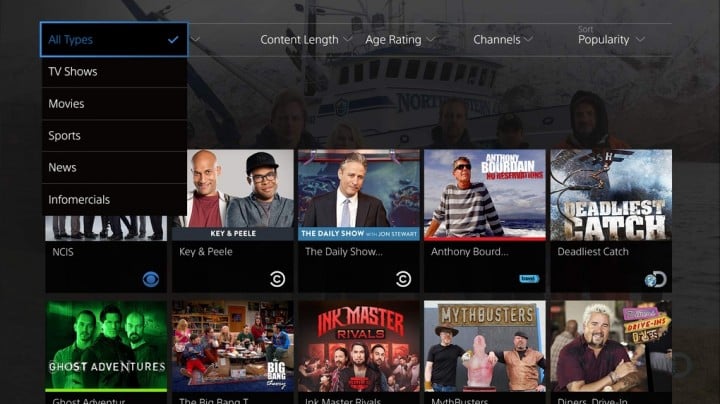 Sony shocked fans across the country when it announced PlayStation Vue late last year. PlayStation Vue is a live television service that allows users to watch digital streams of channels they wouldn't normally have access to without a cable subscription from a company like Time Warner or Comcast. When Sony announced PlayStation Vue last year Fox, CBS, Discovery Communications, NBC Universal, Scripps and Viacom had all signed on to provide content for the service. In total, Sony promised 75 different television channels.
Beyond the live television channels, there's the unorthodox on-demand system built into PlayStation Vue. Typically, users need a digital video recorder to hang on to shows that aired, but aren't available through on-demand services. With PlayStation Vue, Sony is making that system a bit more intuitive. Everything that airs on PlayStation Vue in the previous three days is available for on-demand streaming. Users who mark shows as favorites will have access to that show's episodes for 28 days.
Anyone can get live television if they're willing to stay limited to broadcast channels or pay for an expensive package from a satellite or cable operating. What makes PlayStation Vue really interesting is the lack of commitment involved in getting the service. PlayStation Vue will cost one flat rate and contain no hidden charges or fees. What's more, PlayStation Vue won't require users to rent equipment each month since the only thing subscribers need is a PS4, PS3 or an iPad. Sony also confirmed that it would announce apps for PlayStation Vue on other devices later.
If there's a problem with PlayStation Vue — and there doesn't appear to be a lot of them conceptually — it's that Sony is rolling out the service in measured steps. House says that what's launching in the next few weeks is support for people living in Chicago, Philadelphia and New York City. PS4 owners nationwide won't be able to subscribe to the service until later this year.
All told, Sony seems poised to dominate the living room in a manner almost no one would have predicted. Shortly after Microsoft announced the Xbox One with its built-in HDMI pass through port, Sony marketing focused almost exclusive on games. According to the company, it'd designed the PS4 with an almost laser-like focus on delivering the best gaming experience. How gamers who cheered Sony on are going to take PlayStation Vue remains unclear.
What is clear is that once the service launches Microsoft will be on the defensive in the live television space. For years, Sony and Microsoft have battled for the living room. Microsoft originally said that it build the Xbox One for lovers of all kinds of entertainment. The Xbox One can't yet act as a replacement for cable service. Instead, users plug in their cable box directly to the system. The Kinect sensor than takes control of the cable box and overlays the OneGuide interface on what users see. That's how Xbox One owners can quickly switch from playing a game to watching ABC Family with a voice command.
Presumably, Sony has plans to make PlayStation Vue available on its PlayStation TV micro-console too. Announced last year, it connects to the PlayStation Now streaming service and lets users play earlier PlayStation titles. Theoretically, it would be the cheapest way to get access to the PlayStation Vue service on a television.

As an Amazon Associate I earn from qualifying purchases.