More Sony Lens Camera Details Surface in New leak
Only days after users got their first look at how Sony plans to do battle with the enhanced camera of the Samsung Galaxy Camera and the Nokia Lumia 1020, a new document detailing more about the company's line of lens-camera has surfaced online.
Contrary to earlier reports, which alluded to the Sony DSC-Q10 and DSC-QZ100 acting more as camera accessories than independent devices, according to the documents leaked to SonyAlphaRumors, the devices will actually act pretty independently from the user's attached smartphones.
Instead of the streamlined experience that had been rumored, possible Sony lens camera owners can expect the two devices to come with physical controls for capturing photos, zooming and even something Sony is calling a "multifunctional jack."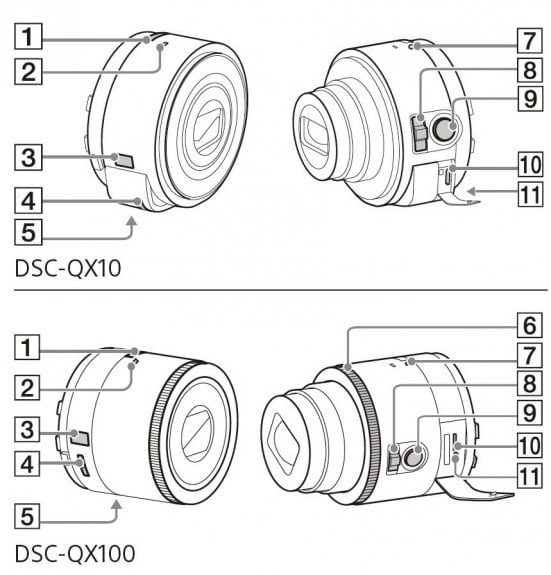 Users can also look forward to a tripod mount, a lens belt hook-up, a built-in Microphone and external button for setting the mode of each camera lens device. Both devices will also come with a built-In power pack that's independent of the smartphone that the device is connected to. In theory this should allow for longer shooting sessions and battery life. Users can add storage to the devices using a Memory Stick Micro port.
While all of this is great for professionals, the experience could prove to be a bit too convoluted for everyday users.
All of that functionality does come a price. The DSC QX100, the device that borrows its 20 megapixel CMOS sensor from the RX100MII professional grade camera, will weigh 179 grams. The DSC Q10, which will have that same 18 megapixel sensor from the WX150 professional-grade camera, will weigh in at 105 grams. For comparison the Nokia Lumia 1020 in its entirety weighs 158 grams.
As users will need to attach these camera-lens to their smartphone, perspective buyers should take the added weight into account since, lighter cameras make for better pictures when using longer exposure times and macro zooming.
Read: Sony Confirms IFA Event
Unfortunately, this small manual leak still hasn't included guidance on a potential price. Sony is expected to formally début both camera-lens at its press event during IFA 2013 in September. That's the same day that industry watchers expect the company to announce the Sony Honami i1. That device will feature a 20 megapixel rear-facing camera.