More Touch without Touching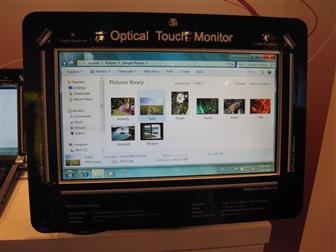 We keep seeing prototypes and concepts for touch-like control without having to touch a screen and of course these usually involve an optical solution using some form of camera or cameras.
DigiTimes is highlighting one such solution from Quanta which that uses two webcams attached at the top of the screen.
The technology does not use a capacitive or resistive touch panel, and instead places cameras on the top corners of the display. The two cameras locate the user's finger position and transfers the mouse pointer to that location.

The technology also supports multi-touch gestures such as rotate, zoom-in and zoom-out.

The advantage of the technology compared to traditional touch panels is its cost-effectiveness, since the technology only requires two cameras. However the advantage scales with panel size meaning the smaller the panel, the less the cost-effective Optical Touch is compared to traditional touch-panel technologies, according to representative from Quanta.
Quanta is supposedly gearing up to support mass production of this soon. I'm guessing soon is whenever Windows 7 pops out into the open.
Hat tip to jkOnTheRun

As an Amazon Associate I earn from qualifying purchases.