More Windows 10 Tablet Details Trickle In
Version 9926 of Microsoft's Windows 10 Technical Preview is already in the hands of developers and exciting testers. That doesn't mean that there isn't still plenty of details for Microsoft to share, and late yesterday a member of the team in charge of Windows 10 did just that. Some of those design decisions are sure to be controversial.
Microsoft's Joe Belfiore took to the social network Twitter last night to answer a few questions in short order and set the record straight on what Microsoft has plans to change and implement in future Windows 10 releases. This was necessary because even the Windows 10 9926 build that became available to everyone on Friday isn't close to complete. In fact, rumors point to Microsoft not finishing the operating system until sometime during the summer.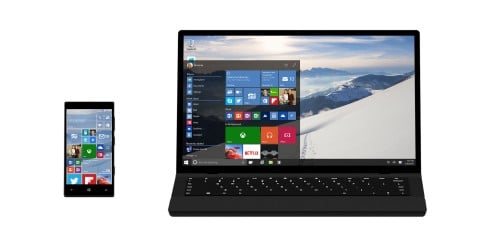 Read: What is Windows 10?
One of the most controversial things Microsoft did with its Windows 8 operating system was turn the Desktop interface into just another app. Back then, it seemed that if Windows 8 was a success Microsoft would slowly improve Windows Store apps and the Start Screen until enough users were using it instead of the Desktop. To be clear, the Desktop is the area that lets you run windows apps like iTunes and File Explorer in Windows 8.
Belfiore confirmed that Microsoft has plans to kill off the Desktop on devices that are smaller than 8-inches. What's more, this appears to be the case if users are running a full version of Windows 10 that should support running Desktop apps.
Folks asking about updating 7" *existing* devices to Win10 — you keep your desktop, you get continuum. Go try it yourself now! :)

— Joe Belfiore (@joebelfiore) January 27, 2015
Belfiore says that "existing devices upgraded to Windows 10 will get to keep" their Desktop, confirming that devices sold with Windows 10 already on-board won't get the Desktop at all. That's big, today, even owners of the smallest Windows 10 tablets can install iTunes and other Desktop apps. That's been a key advantage of buying a Windows tablet because the Windows Store app still leaves a lot to be desired. Anything with a screen bigger than 8-inches will have access to the full Desktop still.
In a reply to another message Belfiore confirmed that it was the intent of his team to have the taskbar present in the Start Screen going forward, saying "We intended taskbar to be present in tablet mode. That's quick access to Start Menu 4 PCs w no HW button, +Cortana, TaskView." Basically, he's confirming that the Taskbar will act as the glue holding Windows on convertibles, Windows on tablets and Windows notebooks and desktops. In Windows 8, Microsoft went for a much cleaner and simpler look for the Start Screen so that users could focus on their apps and Live Tiles. Leaving the Taskbar there is sure to get some touch-purists a bit angry. For what it's worth, it appears like the company made the logical decision. The Charms Bar that held search and more in Windows 8 and Windows 8.1 is gone in Windows 10. Those functions had to move somewhere.
Read: Windows 10 9926: What's New & Different?
In later comments Belfiore tells users why Cortana, the new Windows personal assistant, isn't available for everyone in Windows 10 9926. He says that the company updated and rebuilt parts of Cortana for the PC. He also says that the company has to start over and scale Cortana on a country and language basis. Belfiore also confirmed that we should see video of Windows 10 for phones running in the next few weeks. That much isn't exactly new, Microsoft confirmed it'd be talking more about Windows 10 for phones sometime in February.
Microsoft plans to roll out Windows 10 as a free update for Windows 8.1, Windows 8, Windows Phone 8.1 and Windows 7 users later in 2015. The company says anyone who takes advantage of the upgrade will get future upgrades when they're available on supported by their hardware too.

As an Amazon Associate I earn from qualifying purchases.