Moshi iVisor AG Anti-glare Screen Protector Clouds the Picture
Moshi offers an easy-to-install screen protector for the new iPad Air called the iVisor AG Anti-glare Screen Protector, but it fails to reduce glare as much as expected and adds a hazy layer that blurs the beautiful Apple iPad Air Retina Display. The best screen protectors install easily and disappear, but the iVisor AG remains noticeable after installation.
For $30 buyers get the Moshi iVisor AG Anti-glare Screen Protector and a lint-free cloth to clean the iPad screen. Clean it off using the cloth and then carefully remove the back film that protects the part of the protector that adheres to the display. Space the thick rigid protector over the screen using the home button as a guide to center it. Then space it so that the part that covers the bezel fits perfectly around the screen's display. Rub smoothly from the bottom up to push out any bubbles. Carefully check the protector to see if there's any debris between it and the screen. If there is, lift the protector from the corner closest to the specks of dust or dirt. Remove them and reapply the screen protector.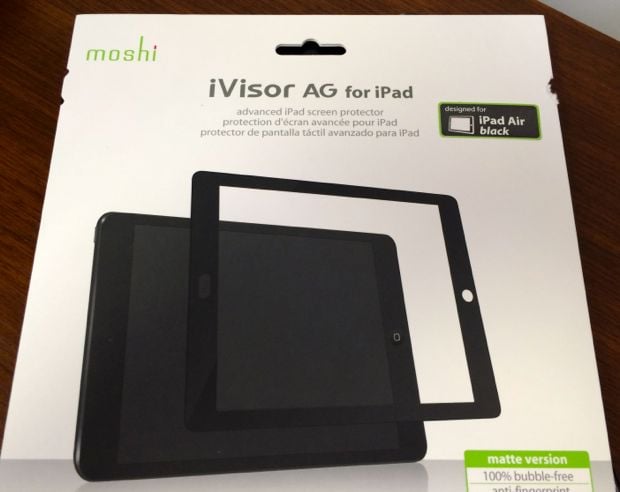 The Moshi iVisor AG went on easier than any other screen guard for an iPad we've seen. It fits perfectly and feels rigid enough to protect the screen. Buyers don't get a flimsy plastic protector. It's strong and should keep people from scratching their display.
The problem we found was the clarity. The anti-glare surface clouds the image of the iPad too much. It looks a little blurry and we still saw some glare when looking at the screen at certain angles.
We can't recommend the Moshi iVisor AG Anti-glare Screen Protector because of the lack of clarity. If it reduced glare while not affecting clarity, we'd really like the product.
Moshi makes one that may fix this problem. They call it the iVisor Crystal Clear Screen Protector in both black and white. Here's the iVisor AG Anti-glare protector reviewed here in black and white. All of them cost $30 and fit the Apple iPad Air.