MOTA Galaxy S6 Premium Battery Case Review
The MOTA Samsung Galaxy S6 premium extended battery case is an excellent choice to protect your Galaxy S6, add some grip to the aluminum and glass design, while more than doubling the battery life at the same time. In fact, this case adds an extra 3,500 mAh of juice to the small 2,550 mAh battery inside the Galaxy S6.
This is the first time in years a Samsung Galaxy smartphone doesn't have a removable back with a replaceable battery or a micro-SD slot, and those have been the biggest complaints for owners. As a result, the Galaxy S6 doesn't have the best battery life, but this case is one of many excellent options to solve that problem.
Read: 5 Best Galaxy S6 Battery Cases
MOTA delivers a unique 2-part case that offers added protection, a better grip, more than doubles the battery life of Samsung's flagship phone, and even improves the sound coming from the bottom speakers. We've seen this design in the past for the iPhone and Galaxy S5, and it's back again thanks to MOTA.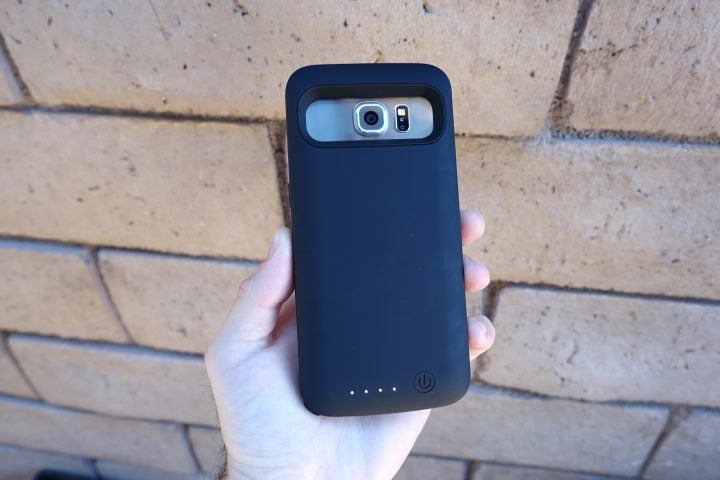 Mophie is one of the most popular names in cases, especially battery cases, and the MOTA delivers a very similar experience for those looking for something a little different, and possibly cheaper, for the Galaxy S6. While we've already detailed a list of some excellent cases for the Galaxy S6, and wallet cases in the link below, users that want more from a case will want to consider the MOTA Battery Case, and continue reading on.
Read: 5 Best Galaxy S6 Wallet Cases
The MOTA Premium Extended Battery Case for the Galaxy S6 looks very similar to many others available on the market for Samsung's latest phone, and even the iPhone, but it has a few changes that make it stand out.
My only real complaint is both a pro and a con, and that's the weight. It's heavier than some cases that offer a similar design and function, as well as a similar extended battery, but that's because it's made up of a quality internal battery. Many cheap $20 Galaxy S6 battery cases claim to offer over 4,000 mAh, yet are lightweight and simply don't last as long as they should for a battery of that size. However, the MOTA truly delivers on the 3,500 mAh promise with high quality premium battery cells, and I've been seeing nearly two days or more of battery with my daily Galaxy S6.
MOTA calls it a "slim-fitting" battery case, and while it looks pretty thick (and it is) it's actually slimmer than most of the competition. Weighing in at just 3.1 oz and being only .61-inches thick it's both thinner and lighter than the Mophie which offers a smaller battery, and it's thinner than many of the cheaper options available all over Amazon. So while it's somewhat heavy, compared to some of the competition or for anyone who's used a similar case, it's rather lightweight.
This means owners will be getting extra protection, better grip, durability, more than 200x battery life improvements and more all in a relatively light and slim package.
MOTA has constructed a soft-touch matte black or white design, ports that aim the bottom facing speaker on the Galaxy S6 to the front for improved sound. It isn't much better, but it does sound a little better. The tactile buttons are extremely easy to push, and four LED lights on the back show battery levels. Then of course a big power button around back to turn on the case.
Users simply pry the durable and re-enforced case apart with a fingernail and slide the Galaxy S6 bottom down in first, connecting it to the integrated micro-USB port, then snap the top on. Some battery cases don't offer this, and the phone simply slides in and out. This means it's more of a battery, and not a case. With the MOTA you get protection from drops, and the case extends over the screen to protect it from scratches, while sitting face-down on a table. It's rather hard to pry open, which makes it durable against drops, but this can be an issue for some who are afraid to break it while trying to open it and remove or insert the Galaxy S6.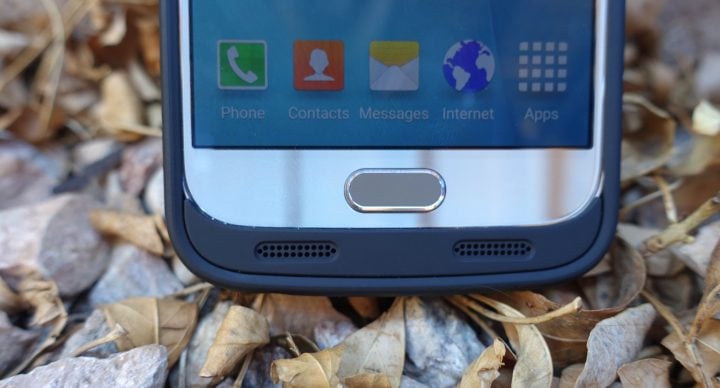 One thing I really like about the MOTA is when you plug in the phone and case to a charger it charges both devices at the same time. Both the Galaxy S6 and the MOTA. When the phone is full the battery case keeps charging. Then, when an owner uses the Galaxy S6 throughout the day and the battery gets low just long-press the power button on the back bottom to turn on the case, which fully charges the phone again.
It's recommended to press power for 3 seconds once the Galaxy S6 is full, to preserve the remaining juice inside the MOTA case, rather than just letting it continuously try to top of the phone battery. Use it only as needed, and the battery will last longer. I've gone from 50% to full four times on a single charge. Basically allowing me to go nearly two days without plugging in my phone once.
The precision cutouts grant full access to all the ports, speakers, buttons and even the infrared sensor on the top for remote control functions. Then MOTA's integrated a chip inside the case that prevents short circuits or overcharging, which will preserve the life of both batteries on board.
Buyers will see four LED's on back that go in 25% increments, as expected, and they have shown to be rather accurate from my week of testing. I did drop it once while getting in my truck and was happy to see the case held its own, and the top snap-on piece didn't separate from the device. Meaning it did it's job and protected my Galaxy S6, while still charging it at the same time.
The MOTA premium Galaxy S6 battery case retails for $99 on the company's website, but it's often on sale for less. In fact, this week only potential buyers can get it for a huge discount, being only $20.99 at Groupon.
In closing the MOTA Galaxy S6 battery case has done everything I expected and more, retained the high battery capacity the company claims, and protects the Galaxy S6 at the same time. It might not be the cheapest, lightest, or best looking case, but it holds up well and gives me tons of battery life to use my phone to the fullest and as intended.

As an Amazon Associate I earn from qualifying purchases.