Motion Blur May Be a Thing of the Past for Moto X Photographers
Motorola's Clear Pixel sensor technology for its rumored 10-megapixel camera on the flagship Moto X smartphone may help with low light photography while at the same time still employing a fast enough shutter speed to minimize or eliminate motion blur in photos.
In a teaser on Twitter, Motorola Mobility posted a series of pictures of a child running around depicting all sorts of motion blur, along with a caption saying, "Either this kid is really fast, or today's phones are really slow." The company may be hinting that Motorola's future phones, including the Moto X, Droid Ultra, Droid Ultra Maxx, and Droid Ultra M or Mini may be able to eliminate motion blur, especially with indoor images captured under low light.
The company is rumored to be using a Clear Pixel image sensor technology to help with low light photography without the use of an artificial flash, and it looks like Motorola may have added some hardware innovation or software algorithm to help increase the shutter speed while at the same time eliminating motion blur, which is different from blurry images that happen as a result of camera shake.
What is Motion Blur
Motion blur refers to the subject in the picture exhibiting fast motion where the action is blurry. If you're waving your hand really fast in an image, your hand may be blurry, especially if taken indoors under poor lighting. On the other hand, a blurry image is where the entire image is blurry as a result of the photographer shaking or moving the camera while the picture is taken. This latter type of blur could happen without any motion in the image, like when you're capturing an image of a still life, like a bowl of fruits, and shaking the camera.
Both types of blur occur when the shutter speed is too slow. Shutter speed is how long the shutter remains open to let in light. On a bright day, or a brightly lit room, you can use a faster shutter speed where the shutter is left opened for a shorter period as there is enough light that passes through to hit the sensor. Indoors or on a dark day at dusk, you'll want to keep the shutter open longer to let in more light through so the sensor has enough light to illuminate the picture. We'll go into details with this later.
Enabling Low Light Photography
The way that low-light capable phones, like the Lumia 920 and Lumia 1020 from Nokia as well as the HTC One, are able to capture a brightly lit image with very little available light today is that these phones use a slower shutter speed to allow more light to pass through the lens to hit the sensor.
As we've found out, low light photography with this technique exposes the camera to blur as any shake or movement of the camera, even the slightest, can result in a blurry image that's captured. To combat this, Nokia and HTC have each employed various means of optical image stabilization where springs or ball bearings would help to counteract the sensor for blur. It's a mechanical process, and one that is effective, albeit more costly and difficult to implement on a small smartphone.
Flash to Mitigate Blur
Another way to combat motion blur or even a blurry image is to use a bright flash. By adding artificial light through the flash, the camera can use a faster shutter speed with the momentary addition of this brief, but bright flash of light. This will help to reduce camera blur as well as motion blur.
On the market today, there are two types of flash. The first type is LED flash, which is more common to the mobile market. Though LED flash has been getting better with brighter bulbs and adjustable light outputs, the results are sometimes mixed.
The second type of flash is more expensive to deploy and could be more taxing on battery life, but is more effective. This is Xenon flash, and has long been a staple on point-and-shoot cameras as well as DSLRs. Xenon is also found on smartphones, like the Nokia N8, the Nokia 808, the Nokia Lumia 928, and the forthcoming Lumia 1020.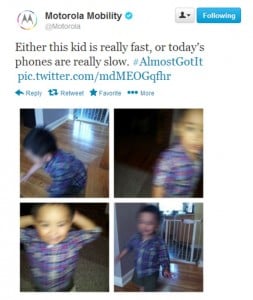 Xenon flash is brighter, allows the sensor to capture more natural colors, and doesn't suffer from ghosting issues present sometimes with LED flash. Additionally, because it is so bright, it allows for a much faster shutter speed. This means, to the consumer, that you can freeze motion in your image. Imagine a person jumping in pitch black. Under this type of lighting, an LED flash may be able to illuminate the face of the subject, but the body going through the action of jumping may still be rendered in the photo with motion blur, similar to the image on the lower right that was posted by Motorola that we re-posted above. With Xenon flash, you can essentially capture the motion of jumping without any blurs, and everything is rendered perfectly with the jump, the body, and the face frozen in mid-air.
The Moto X
It's still unclear how Google will implement the camera to help eliminate motion blur–if it's through hardware like optical image stabilization or through software algorithms. From the leaked images we've been seeing recently of the Moto X, it appears that the device has a single LED flash bulb, and not a Xenon flash.

This article may contain affiliate links. Click here for more details.