Motion CL900 Brings Rugged Design to Windows 7 Tablet (Video)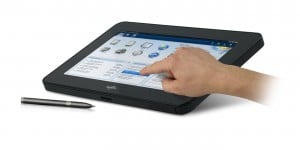 The Motion CL900 is a Windows 7 tablet with a rugged design that's powered by an Intel Atom Oak Trail CPU clocked at 1.5 GHz. The tablet can be configured with either a Windows 7 Professional or Windows 7 Home Premium OS. It's rubberized aluminum-alloy internal frame offers rugged durability while meeting military specs for water, dust, and splash resistance.
Like the HP Slate, the CL900 from Motion offers both a capacitive touchscreen and support for pen input via an active digitizer.
The Gorilla Glass display measures 10.1-inch and supports a resolution of 1366 X 768. Additionally, the CL900 can also support HD video playback and has an HDMI 1.3a output port.
The tablet can be configured with either 1 GB or 2 GB DDR2 RAM. Internal memory is offered via a 30 GB SSD with an option for a 62 GB SSD.
The 2-pound slate supports Qualcomm's Gobui chip for 3G access. As an enterprise device, it also has a front-facing and rear-facing camera, which can be helpful in industries where users need to snap photos for documentation, such as in the insurance industry. There's a dock connector, 1 USB port, and an SD card slot.
According to Motion, the CL900 will be available beginning in the second quarter.
The device has a reported battery life of 8 hours.

As an Amazon Associate I earn from qualifying purchases.