Motion CL900 Light and Rugged Windows 7 Tablet Overview, Now Shipping (Video)
For users that need a full fledged Windows 7 tablet solution that is light and can handle the occasional drop, the Motion CL900 Tablet PC is an excellent choice and is now shipping. The Motion CL900 weighs in at 2.1 pounds, brings pen and finger touch input and a Gorilla Glass 10.1″ display that adds to the overall durability and rugged nature of this Windows 7 slate, especially with a starting price of $899.
Motion CL900 Rugged Tablet Specs
The Motion CL900 has a 1.5GHz Intel Atom Z670 processor, 30 or 62GB solid state drive options and a full complement of connectivity options including USB, SD Slot, Audio In/Out and Video Out. The tablet packs in WiFi, Bluetooth 3.0 and optional Wireless connectivity with GPS.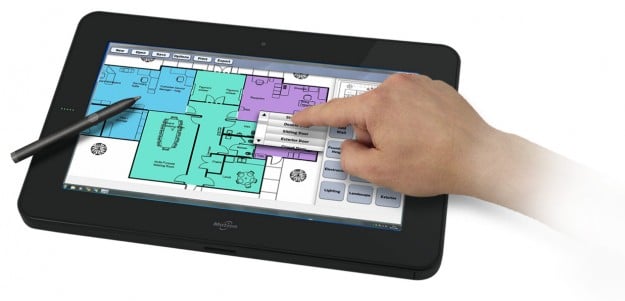 The 10.1″ display has a 1366 x 768 resolution and includes Corning Gorilla Glass to aid in the strength of the display. Users can interact with Windows 7 applications with a stylus or with their fingers, allowing for versatility across a number of end users applications.
The Motion CL900 can be used with an array of docks, mounts and cases to fit the needs of healthcare, auto and other workers out in the field as well as fitting into retail locations.
Motion CL900 Video Demo
Rugged Tablet
The  Motion CL900 is rated for MIL-STD-810G and IP52 ruggedness certifications and is specifically designed to survive a drop from a workbench, truck bed or hospital bed as well as withstanding moisture, dust ans extreme temperatures. Below, you can see Motion Computing drop testing the Motion CL900.
https://youtu.be/whbYbonmD3M
Motion CL900 Battery Life
We haven't had an opportunity to test the Motion CL900 out for battery life, but Motion is claiming that the tablet will last all day with an 8 hour battery. Motion tells us that the battery will charge to full in 2 hours so workers spend less time waiting for the CL900 to charge.
Motion CL900 Overview
Motion CL900 Gallery
Motion CL900 Specs
At 2.1 lbs (1), it's small, light and very portable
The display supports both "Touch" and "Pen" input
10.1" screen featuring HD 1366 X 768 resolution delivers bright visibility and the durability of Corning® Gorilla® Glass
Rugged Tested for real-world, field-ready conditions
(MIL-STD-810G and IP52). See list of approved cleaners and disinfectants
Up to a full day of battery life using Intel's next generation
Atom™ Z670 (1.5 Ghz) processor running genuine Windows® 7 Professional or Home Premium
Standard Solid State Drive (SSD) with 30GB or 62GB
On-board connectivity: USB, SD Slot, Audio In/Out, Video Out
Wi-Fi, Bluetooth® wireless connectivity and optional WWAN mobile broadband(Gobi™ connectivity with GPS)
Integrated cameras: Rear facing 3.0 MP documentation camera and front facing 1.3 MP web camera
Docking Station with 3 USB ports and Ethernet connectivity
One-year warranty protection – optional three-year and optional Accidental Damage Protection (ADP)
Natural pen/speech and touch input

As an Amazon Associate I earn from qualifying purchases.