Motion Computing Announces The J3400 Rugged Slate Tablet PC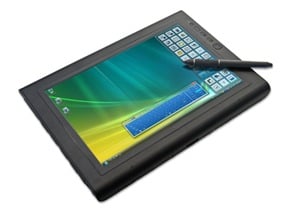 I teased everyone last week about testing Motion Computing's newest Tablet PC, and today they have lifted the veil by announcing the   J3400 Rugged Slate Tablet PC.   It is rugged, light weight, and features a black exterior with rounded corners and a non-slip Elastomer overmolded back casing that cushions against shocks.   Prices start at $2299 with an array of pricing configurations.
Be sure to watch our InkShow videos on the J3400 ( part 1 and part 2), gobs of pictures, as well as other upcoming exclusive coverage.
Press release and specs after the break:
Specs and Features:
1.2 ghz SU9300 / 1.4 ghz SU9400 Intel Processor
Support for up to 4 GB of ram
80 GB and 120 GB 5400 rpm HDD. 64 GB SSD available
12.1" 1280 x 800 WXGA ( with or without View Anywhere)
2 USB ports
External VGA
Dual Hot Swappable batteries
Express Card slot / Smart Card Reader
Fingerprint reader
Integrated 2.0 mega pixel camera with flash, 1600 x 1200 pixels
integrated shoulder strap attach points
Wacom Active Digitizer. Sadly, this model is not touch-enabled, but my contacts at Motion tell me a touch version is on the drawing board.
IP52 and MIL-STD-810F rated, able to withstand a 3 foot drop on plywood over concrete
Weight: 3.6 lbs with one battery, 4.0 lbs with two battery
Dimensions: 12.7″ x 9.09″ x 0.90″ (323mm x 231mm x 23mm)
Battery life: around 3.5 hours on 1 battery, around 7.4 hours on 2 batteries
Shock mounted display and HDD. SDD is optional
Speak Anywhere that utilizes two of three integrated microphones
Optional GPS
Optional Gobi (SIM card support underneath battery)
Optional redesigned convertible Mobile Keyboard ($149)
Optional redesigned Flex Dock docking station ($299)
Durability testing: • 3-foot drop test compliant to MIL-STD-810F
• IP52 rated
– Water, dust and splash resistant
• Shock-mounted display and hard drive
• Chemically strengthened glass
• Rubberized coated bottom housing for shock dampening
• Magnesium-alloy internal frame
Official press release:
AUSTIN, TX — March 16, 2009 — Motion Computing ®, a leader in mobile computing and wireless communications, today announced the latest in its line of rugged tablet PCs. Maximizing performance and flexibility, the J3400's lightweight package, superior ergonomics and integrated features allow it to adapt easily to a broad range of demanding work environments. Ideal for mobile workers that compute while walking or standing, the J3400 extends the computing day with a dual battery design and shines with an industry-leading, bright outdoor display.
""The J3400 was developed based on more than seven years of tablet PC experience, and feedback from customers across industries," said David Altounian, president and CEO, Motion Computing. ""It is a mobile computing device with the capabilities our customers are demanding — a powerful processor with a compact rugged design that supports users who must be productive whether in the field or in the office."
The J3400 joins Motion's family of proven tablet PCs that meet the needs of mobile users across a variety of markets including healthcare, construction, field sales and service and government. Balancing performance, weight, durability and integrated features, Motion tablets have significantly enhanced mobile productivity by enabling users to take technology directly to the point of service.
""Motion is recognized for innovative solutions that can improve productivity with the ability to take technology to the point of service," said Brian Tucker, business marketing manager, Mobile Platforms Group, Intel Corporation. ""Intel's Centrino 2 processor technology is the backbone in many thin and light concepts like the J3400's innovative design with long battery life."
Cianbro, a construction and service solutions provider, has significantly improved job site productivity with the use of Motion tablet PCs. The company plans to deploy the J3400s at Destiny USA, a first-class destination being built to operate 100 percent free of fossil fuels.
""At Cianbro, we're excited about the advancements Motion has made with the J3400. The new features fit in well with our mobile computing needs," said David Fay, Cianbro's job site technology manager. ""The bright screen, ruggedness and integrated camera will help us further improve productivity as we work to enable innovation in the construction industry through advanced technology."
Rugged, Lightweight and Ergonomic Equal All Day Computing
Motion's J3400 offers all of the durability and functionality of a rugged PC, without the extra weight and price associated with traditional fully rugged devices. The tablet PC features a hot-swappable dual battery feature for all day computing performance. Additionally, with its balanced design, integrated shoulder strap attach points, rounded corners and slip-free grip surface, it is easily carried throughout the day.
Motion's unique design and internal frame that protects internal components without adding weight or thickness allows for the J3400's rugged design and light weight. The tablet PC is IP-52 rated and meets MIL-STD-810F specifications — able to withstand a three-foot drop on plywood over concrete as well as the occasional bumps, dust and moisture associated with mobile working environments. A variety of features create a reliable, rugged device:
· 1.8 inch hard disk drive (HDD) that provides extra shock protection
· Shock-mounted display and HDD with DataGuardâ"¢, an accelerometer that protects data during drops or other events that could potentially damage the hard drive
· Optional low cost 64GB SSD for extreme shock and vibration protection
Integrated Features and Custom Peripherals Optimize Usability
The J3400's available integrated features improve field productivity while reducing the number of devices that must be carried, while a host of custom-designed peripherals optimize usability:
· 2.0 megapixel camera for seamless, in-the-field documentation
· Smart card reader and biometric fingerprint reader for enhanced security
· GPS for real-time mapping, location tracking or the geo-tagging of digital photos
· FlexDock with full input/output connections, a convenient charging bay and mounting compatibility with any VESA device
· J-Series Work Anywhereâ"¢ kit to give users a comfortable option for carrying the device throughout the workday
Improving Mobile Productivity with the Latest Technologies
The J3400 is available with a variety of technologies that improve productivity, whether computing indoors or out. It is the first tablet PC to combine Motion's View Anywhere ® technology with the Hydis AFFS+ wide screen display, creating an industry-leading, bright outdoor viewing experience. Other available features include:
· Intel ® Centrino ® 2 processor technology, which includes the Intel ® Coreâ"¢2 Duo processor to provide high performance and optimal battery life
· Speak Anywhere ® technology that intelligently switches between two of three microphones for high-fidelity voice and sound input
· Intel ® WiFi Link 5300 Series 802.11 a/b/g/draft-n, CSR BlueCoreâ"¢ Bluetooth ® 2.1, and integrated Gobiâ"¢ mobile broadband for a variety of communications options
Pricing and Availability
Motion tablet PCs are sold by authorized Motion resellers and distributors worldwide. For more information or to find a certified Motion reseller visit www.motioncomputing.com/products/tablet_pc_J34.asp.