Motion Computing C5 and F5 Get 'Gorilla Glass'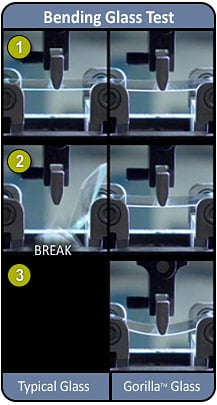 Motion Computing and Corning announced that Motion's C5 and F5 will be the first ruggedized tablets to be outfitted with Gorilla glass. The stregnthened glass is being offered with the Motion Computing's View Anywhere display option. This $249 option improves outdoor readability in addition to preventing damage to the display.
According to Motion Computing and Corning, Gorilla Glass has several features that make the product desirable:
Cemically strengthened to withstand high-volume user interaction and repetitive motion
Highly durable, scratch-resistant cover glass for increased mobile Tablet PCs lifespan
Adds protection without impacting pen response
Increased ability to resist and withstand damages compared to device without Gorilla glass
Scratches that may occur are less visible & less likely to affect the user's visual experience
Retains its performance advantage even when used in thin form factors
Retains optical characteristics after extended use and abuse
Remains strong over time
Water, chemical and disinfectant resistant coating: easy to clean and remove dust, dirt, or other elements.
Motion Computing caters to customers that can pretty rough on their equipment so it makes sense for them to offer this extra level of protection. Extra screen protection might not be the most exciting feature to tell end users about, but this may end up reducing costs over the long term.
Gorilla glass can be found in other high-end mobile products, including Dell's Adamo notebook.
Motion's published a brief video demo of a tablet surviving abuse here.