Motion Computing Tablet PC pen problems fixed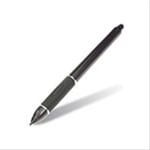 During the Tablet PC / UMPC meetup, I had an opportunity to chat with Motion Computing's Product Manager, Michael Johnson. I knew better than to peg him about new, unannounced products ( never gets far with Motion :-) ), but I did talk with him about something of importance to current Motion Tablet PC owners – the pen.
As I indicated in my Tablet PC / Stylus InkShow, Motion's active digitizer pen is my favorite – when not used with a Motion tablet. You see, the grip on the pen expands within weeks and months after use due to heat generated from the LE1600 and LS800, and the glue seperates from the pen, creating big problems when you want to remove or insert the pen in the garage. The common solution, up to now, has been to call Motion's tech support line and they would send out a replacement at no-charge. When I had my LS800, I went through at least 3 – 5 pens. I was getting in the habit of calling tech support every 2 – 3 weeks to get another pen ready.
Well, according to Michael Johnson, Motion has finally fixed the problem. They have moved to a harder rubber for the grip and are also using a new compound to hold the grip to the pen, making it less likely to seperate due to heat. To get your replacement pen, call Motion's tech support at 866-322-9783, option 9.