Motion Computing Unveils Updates to F5 and C5 Slates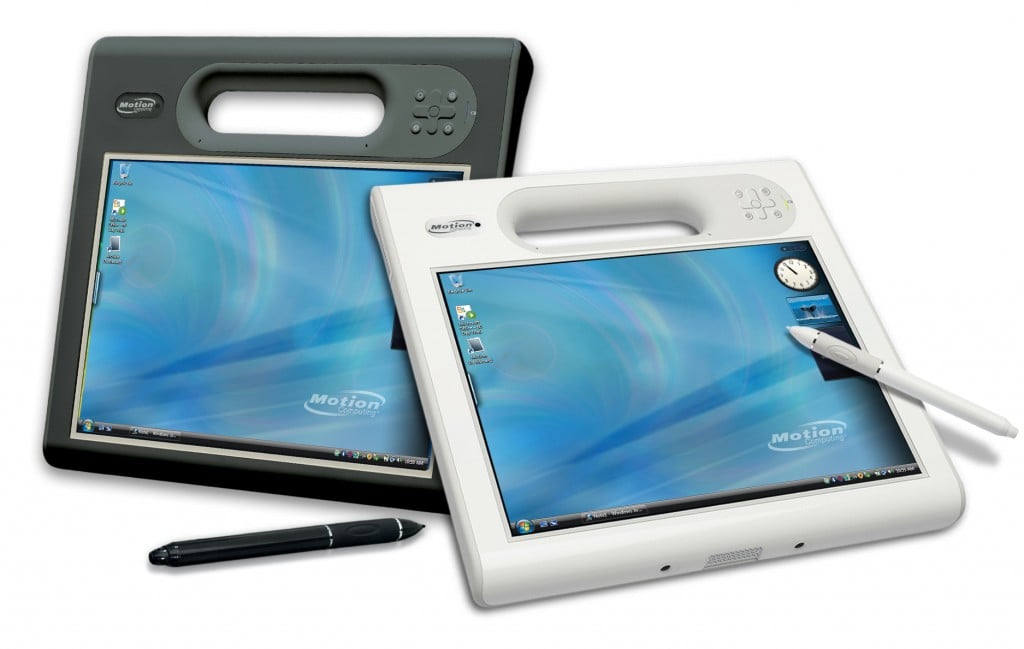 Motion Computing is releasing updates to its vaunted slate line of computers the F5 and C5. Both now sport options for I5 and I7 processors and other advances. These rugged beauties descend from Motion's work in the medical niche with the original C5. When the F5 made its debut it was targeted at folks who needed a rugged PC in the field in a variety of industries.
Both the C5V and the F5V  meet MIL-STD-810G and IP-54 standards and they come with what I think is a great feeling case to protect all that computing power contained within. Motion has added a tough Gorilla Glass screen for the display and there is an option for a View Anywhere option if you're going to be using the F5V out of doors. You've got front facing and back facing cameras, and RFID and Barcode scanner as well. Motion is promising a 50% increase in speed and greater battery life. In my testing of the review unit of the F5V I did notice that it ran Windows 7 Professional quite snappily, but really didn't have the unit long enough to check out battery life. That said, I did not get a sense that the battery was draining quickly.
For connectivity you've got WiFi and Bluetooth and an optional Gobi 2000 WWAN. These devices (or I should say the F5V as that's the device I checked out) don't feel like a ruggedized computer. They feel sleak, and ready to roll. The F5V is light enough at 3.3lbs that it is easy to tote about. The distinctive handle was something in the earlier models that didn't appeal to my sense of design, but I have to say after using the device, I really, really like that handle and I can see not only the practicality of the choice, but the wisdom behind it.
Inking is a delight on the F5V. It just works, feels smooth, and feels right. It's been awhile since I checked out the earlier models, but the screen/pen interaction feels much improved to me.
Motion also offers a docking solution for both devices that serve to charge the devices up, and extend your port options and display. The dock is quite a heavy and large piece of equipment, and to my mind, even with adding a keyboard to the dock for pounding out some data, it would be difficult for me to see this as the centerpiece of a desk. Your mileage may vary when it comes to aesthetics but for grab and go simplicity this is an excellent solution.
Yes, these are both niche Tablet PCs. And the prices (The F5V starts at $2548 and the C5V starts at $2299) reflect that. For some reason those of us, myself included, think niche and think that is a bad thing in the consumer orientated world we live in. But I've come to see things differently. (It must be age, it surely isn't wisdom). While the price point and the niche focus may cause others to look elsewhere, let's keep in mind that these niche devices (and others) offer a range of mobility and data input options for professionals that need real tools to get their work done. The F5V and the C5V offer that and more. To be honest, with the way my workflow is constantly shifting, the only thing holding me back from purchasing the F5V is the price point. But should my financial situation change I could see the F5V becoming my go to note taking tool.
Check out the InkShow review in this post.
Press Release Follows:
Motion Launches New Line of Rugged Tablet PCs Offering Enhanced Power, Performance and Integrated Features

Motion's F5v Mobile Field Tool and C5v Mobile Clinical Assistant (MCA) are industry's first slate tablet PCs to integrate advanced Intel® Core™ vPro™ processors

AUSTIN, Texas – May 19, 2010 – Motion Computing®, a leading provider of integrated mobile computing solutions, today announced the industry's first slate tablet PCs with Intel® Core™ vPro™ processors, offering new levels of performance, security and manageability. Built on the company's proven line of tablet PCs, Motion's F5v and C5v meet the needs of mobile workforces across industries, and now feature enhanced integrated features, connectivity and durability.

"From its inception, Motion has delivered tablet PC solutions that address the needs of a highly mobile workforce," said Mike Stinson, Vice President of Marketing, Motion Computing. "Today we extend that leadership with the introduction of the industry's most advanced purpose-built slate tablet PCs that offer mobility, power and durability."

Powerful Performance

The rugged F5v Tablet PC and C5v MCA now feature the Intel® Core™ i7 or Core™ i5 vPro™ technology, enabling a significant improvement in performance and battery life over previous solutions. Additionally, incorporating Intel Core vPro technology will enable Motion customers to experience:

Enhanced remote management capabilities enabling IT technicians to repair and secure the PC from any location, even while powered-down or in sleep mode, enabling greater levels of energy efficiency and streamlined maintenance processes
Increased security with fully manageable hard drive encryption, and Intel® Anti-Theft technology used with Computrace®, protecting valuable data in case of loss or theft
Improved multitasking with smart technology that adjusts processor speed to support workload changes, providing power when needed and working more efficiently when possible
"Motion tablets with the 2010 Intel Core vPro processors adapt to the needs of mobile workforces with smart security, cost-saving manageability, and intelligent performance," said Brian Tucker, Director of Marketing, Business Client Platform Division at Intel. "Now enterprises can take advantage of the powerful applications and rich user experiences available with today's technology."

Built on Proven Technology

Motion's next-generation C5v and F5v Tablet PCs are based on the company's proven line of rugged tablets that are in use by mobile professionals worldwide. New features to further increase productivity, connectivity and durability for enhanced mobile experiences include:

Hot-swap battery feature for easy replacement of charged batteries without interruption
System storage enhancements, featuring a powerful 160GB HDD and up to 4GB of RAM
Extra-durable Corning Gorilla™ glass, now standard, offering up to a 4 times improvement in breakage resistance1, with new anti-smear coating for improved visibility
Enhanced optional, integrated 3.0 megapixel documentation camera and new web camera for improved communication and collaboration capabilities
Integrated Gobi2000™ mobile broadband supporting multi-mode 3G mobile Internet access on either HSPA or CDMA2000® EV-DO networks in markets around the world
Enterprise-Ready, Highly Powerful, Durable and Mobile Tablet PCs

Tested to withstand even the harshest working environments, the C5v and F5v Tablet PCs meet MIL-STD-810G and IP-54 standards. Drop tested on 26 sides and fully sealed against dust and moisture, the tablet PCs are designed to withstand bumps, drops, rain or other conditions that can damage commercial-grade computing solutions. Additionally, the tablet PCs are enterprise-ready. Utilising either the Windows® 7 or Windows XP operating system, the C5v and F5v fit seamlessly into enterprise-environments, reducing the burden on IT and enabling mobile workers to manage the same applications available to office-based employees.

The Motion C5v MCA and F5v Mobile Field Tool

The next generation of the proven C5-Series and F5-Series Tablet PCs, the Motion C5v and F5v are tailored to mobile professionals across vertical industries such as healthcare, construction and field service. The tablet PCs are fully rugged yet lightweight, making them the ideal solution for workers who compute while walking or standing. Deployed across organisations worldwide, the tablet PCs are proving to enhance documentation, improve collaboration, and reduce process latencies. For more information visit the Products and Services page.