Motion Computing Updates Peripherals, Intros Medical Dictionary
Motion Computing is introducing a two peripherals and some software that should help tablet users that work in the healthcare industry. The motion folks are exhibiting their wares at the Healthcare Information and Management Systems Society Conference in Atlanta.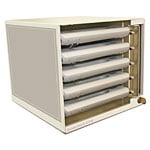 The ReadyDock is a cabinet that can be configured to securely store up to 20 C5 or F5 Tablet PCs. Built-in wiring and a switch allow each tablet to be managed and backed up when not in use. The ReadyDock is wall mountable, which means you don't have to sacrifice desk or counter space.
A new RAM Mount with an integrated combination lock is also now available for the C5 and F5 Tablets. It can be used to secure a tablets to walls, fixtures and vehicles. In addition to locking down tablets (and sensitive medical records), the mount acts as a dock. Motion tablets can be charged when in the RAM Mount and connected to peripherals and networks via three USB ports, an Ethernet Jack and a VGA port.
The company's Motion Medical Dictionary is something healthcare workers should appreciate. The software adds a quarter-million words that are commonly used by healthcare to the TIP database so they can be readily recognized. The Motion Medical Dictionary is available for $39.99 per machine. Apparently this is just the solution you need if you're having trouble getting your tablet to recognize "paraphrohaemolyticus" every time you ink the word.

Tablet PC Docs
I'm all for products that will help doctors digitize their practices and improve patient care. My own doctor is a Motion Computing tablet user and is amazingly efficient with the device. After spotting a video I shot for Notebooks.com, BNet visited Dr. Selle and produced the below video.
Does your doctor use a Tablet PC? If so, what software and hardware have you seen him/her use during a recent visit?

As an Amazon Associate I earn from qualifying purchases.