Motion Computing's David Altounian – Focused and Contagious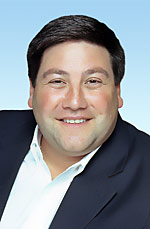 I had the pleasure of having coffee with David Altounian, Motion Computing's newly minted CEO, this past Saturday. Altounian is one of the original founders of Motion Computing, and was instrumental in its' early success. After taking a few years off to earn his MBA from the Kellogg School of Management, he rejoined Motion as their COO several months ago. Just last week, he was tapped to replace Scott Eckert as CEO.
During our hour-long conversation, we touched on a number of issues: from Motion's beginnings as a leading innovator, their focus on vertical markets, touch, tablet pc, convertibles, Apple ( yes, Altounian is a Mac fanatic like me), layoffs, small form factor devices, and much more. Many of us in the mobile pc and tablet pc space can recall the early excitement surrounding Motion. Somehow along the way, though, Motion seemed to have lost that small company excitement, the innovating spirit that helped set them apart. Although I can't get into the specifics of our conversation, I'm very excited to see new leadership at the helm of Motion. Altounian left me with the impression of a highly focused man with a contagious excitement for Motion Computing and the mobile computing space. Altounian is taking the reigns during some challenging economic times. Fortunately, he has a very focused team with $6 million in new funding to help them weather the coming months, innovate during this downturn, and come out swinging.
I expect to see great things from Motion in the near future.

As an Amazon Associate I earn from qualifying purchases.