Moto 2016: Moto Z and MotoMods Detailed
Lately we've been hearing a lot about Motorola's upcoming smartphones for 2016. The Moto X has been a popular phone for the past few years, but in 2016 their new parent company Lenovo looks to rename it the Moto Z. At the same time we now have some fresh new photos of the Moto Z, Moto DROID for Verizon and some modular accessories called MotoMods. Here's what potential buyers need to know.
Back in December the first photos of the Moto X 2016 leaked, with an all metal frame and a huge camera ring around back. It was an odd looking device that received a lot of negative attention. However, with the launch date quickly approaching we've now received final-product photos revealing a much more polished smartphone aimed at taking on the Galaxy S7, iPhone 7, LG G5 and more.
Read: 2016 Moto X Release: What We Know So Far
Later this week on June 9th at Lenovo TechWorld is where we're expecting to see the phone get announced, which will answer a lot of questions. Recently we learned the Moto X name will be tossed out in favor of "Moto Z" and the phone will have modular accessories for added customization. So what can we expect and what does the Moto Z and these modules look like? Read on to find out.
Our link above goes over absolutely everything you need to know about the 2016 Moto X, or Moto Z, if you will, and below is the latest information, details, release dates, pictures and more for potential buyers. In a sea where all smartphones are starting to look the same, all have good cameras, fingerprint scanner and more, Lenovo and Motorola are taking a completely different approach to try and steal consumers away from Samsung and the rest of the competition.
Moto Z and Moto DROID
Recently the popular and highly accurate leakster Evan @evleaks Blass uncovered a pair of photos that fully reveals the Moto Z and those modular accessories. Well ahead of the June 9th launch date. According to these photos and everything we've heard so far, the Moto Z and Moto DROID for Verizon will look nearly identical, but have a few subtle changes. Rather than Moto building a completely new phone for Verizon each and every year.
The first photo released by @evleaks gives us our best look yet at the new Moto Z and Moto DROID. A phone that will replace the Moto X in 2016. Showing off the back of Motorola's new smartphone in three impressive colors. Black with Gold accents, Silver, and an all Gold model.
We see the large camera on back from previous leaks complete with a flat-tire look to house the dual-stage LED flash and sensors, a DROID branding for the versions that will be available from Verizon, a Moto logo, all metal frame with what could be glass covering the body on back (similar to the Galaxy S7) and some weird dots on the bottom.
Early leaks suggested those were a rear-facing speaker, but that isn't the case. Instead, the new Moto Z and DROID will be customizable with modular accessories that magnetically attach to the back. These will be called MotoMods, but more on those below. Essentially this is a take on modular add-on parts to enhance the experience, similar to the LG G5 or Google's upcoming Project Ara, which was originally dreamed up by Motorola.
Moto Z Specs
For now we don't know everything, or what Lenovo has in store, but they have started releasing teaser videos highlighting the original Motorola RAZR. Arguably the phone that put Motorola on the map.
And while it's possibly the company will release a Moto X and a thinner Moto Z, we'll have to wait until June 9th to be sure. That said, here's everything we know so far about the specs based on leaked information, recent releases, and other sources.
Moto Z Specs (Rumored)
5.5-inch 2560 x 1440 Quad-HD Display, one with 1080p HD screen
Quad-Core Snapdragon 820 processor with 4GB of RAM (or 820 Lite)
16 or 32GB of storage and micro-SD slot (like last year)
Android 6.0.1 Marshmallow or Android N
16 Megapixel Rear Camera with Dual LED Flash, sensors, auto focus, OIS
8 Megapixel Front Camera with auto-focus and flash
Metal Design with MotoMaker customization (customization a maybe)
USB Type-C Port with Fast Charging, front fingerprint scanner
2,600 mAh and 3,600 mAh battery options
Modular accessories that attach to the pinholes on back
more
That information suggests there will be two smartphones. One could be the Moto X with a 1080p HD display, a Snapdragon 820 Lite processor that's cheaper than the higher-end model, a smaller battery and less storage all at an affordable price. Then, the flagship Moto Z will have all the top-tier specs mentioned above. Like a huge 3,600 mAh battery, faster processor with more RAM and storage, and all the modular accessories detailed below.
Things are getting rather confusing with all these different Moto G4 models, potentially different Moto X models and a new Moto Z. Hopefully once these phones are officially announced on June 9th we'll have a better idea of what to expect.
Moto Maker
Initially rumors were suggesting that Moto Maker and its famous free customization for Motorola smartphones was going away. Offering an all metal phone meant no more wood, leather, or colored backs for the 2016 Moto Z. However, with just days to go before the announcement HelloMotoHK received some photos that tells us otherwise.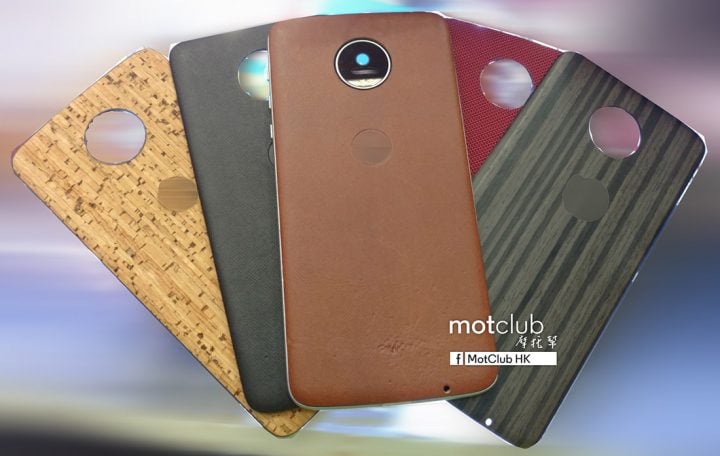 While we're not sure why buyers would want to cover a premium all-metal phone with plastic, Moto Maker isn't going anywhere. Similar to the MotoMods below Motorola and Lenovo will be offering wood, leather, and different color backs that will attach to the back of the phone. That cork board looking back sure is sharp, and very unique. As long as it is sealed for durability. Again, we don't know everything yet, but we do know the new Moto Z will be extremely customizable with different backs, and add-on accessories that can enhance the user experience.
MotoMods
The most exciting aspect of the new Moto X or Moto Z aside from the beautiful new all-metal design, is the modular accessories that will transform the phone into a very capable device. These will apparently be called MotoMods and be bought separately as the user sees fit.
Once again, @evleaks has received photos and is giving us our first look at Motorola's plans. Similar to how the LG G5 has modular accessories that slide into the bottom, the Moto X and Moto Z will have MotoMods attach to the back. Here's our first look.
Based on what we're seeing these MotoMods are pretty neat and bring a lot of different capabilities to Motorola's new smartphone. These may be the first three to be available at launch with more coming, but we'll have to wait and see.
The module on the left is reportedly an extended battery and Pico Projector, allowing users to watch videos, movies, YouTube, Netflix and more on a big screen. The middle MotoMod is a powerful premium JBL speaker module with a built-in kickstand of some sort. Then that last one is an even better camera than the 16 megapixel shooter built-in. According to Evan Blass the third MotoMod is a camera from the company Hasselblad, who if you didn't know, produce cameras that range anywhere from $700 to $32,000. It apparently delivers a new camera with Zoom, a huge flash, auto-focus and a dedicated camera shutter button, along with some other things.
At this point we have a pretty good idea of what to expect, at least initially, but will need to wait for the official announcement to learn about the rest. Either way, a new and improved all metal Moto X or Moto Z will be debuted along with some MotoMods, and possibly even more. Lenovo TechWorld kicks off on June 9th, and we'll have all the details as they are revealed.
As a comparison, last year the Moto X was announced at the end of July and released in September. We're expecting this new phone to arrive even earlier, but no release date has been rumored at this time.

As an Amazon Associate I earn from qualifying purchases.