Moto 360 Battery Life Improved with New Update
The Moto 360 smartwatch has been available for a few weeks now, but many users have been complaining about battery life. However, a new update recently arrived to fix many problems for owners and prospective buyers.
Earlier this month after weeks and weeks of waiting the new Moto 360 smartwatch was finally released for eager buyers. Many initial complaints were regarding stock running out after hours of the release, and those who've received their watch weren't extremely happy about battery life either.
Read: Apple Watch vs Moto 360: Key Differences
The Moto 360 is Motorola's new smartwatching running Android Wear. A mobile-based operating system running Android built by Google strictly for wearable devices like a smartwatch or Google Glass. It's still new and bugs slowly are being fixed, and below we'll explain what we're hearing the latest update has delivered.
If you were on the fence regarding Android Wear smartwatches, or read our review of the Samsung Gear Live and wasn't impressed, the Moto 360 may be worth checking out. Initial reports and reviews weren't putting a positive light on battery life, but it isn't nearly as bad as many reviews claim.
To make things even harder for those weighing whether or not to buy one, last week Motorola and Google pushed an update out to Android Wear for the Moto 360 which has drastically improved battery life. This has been confirmed on our own units, and from a wide array of owners around the web.
Users on multiple rumors, and the popular site Reddit have all started to voice their opinions regarding the latest update. It started arriving late last week, and many didn't get it until this weekend. However, once they did, they notice a major increase in battery like for the wearable device.
Read: Moto 360 Hands-On
The Moto 360 battery life improving update is version 4.4w.1 which users started receiving late last week and all throughout the weekend, and if you head into settings and about watch you'll find Android Wear version 1.0.1.1448224. Yes if you tap on it, you'll see the version number.
With the new update, my watch has been off the charger for 30 hours and I still have 53% left. This is nuts. I'm going to turn the ambient mode on after my next recharge to see how that fairs.
After receiving the update we've been seeing comments such as the one above. Where users have gone from complaining the watch barely lasts one full day (which is fine) to nearly two days with no problems. Many users simply use the watch all day long, and then charge it at night, meaning the new update makes the battery last an entire day, no matter how much you use the watch.
It's worth noting this is with Ambient mode off. Ambient mode on the Moto 360 lets the screen determine the light around you and adjust accordingly, like smartphones, but it also dims the screen in a low-power state rather than turning off the display. Meaning users will see a dimmed version of their watch face for longer periods, rather than just a black circle on their wrist. Essentially giving the watch more time before the screen turns off completely between usage.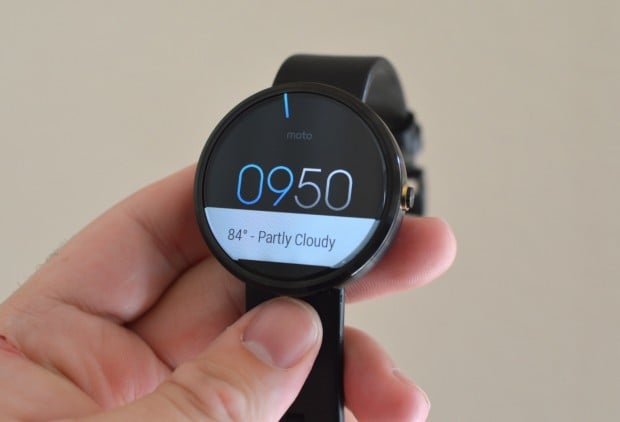 Obviously ambient light mode will decrease battery life, and is disabled out of the box, but with these new battery life improvements from the latest 4.4w.1 update, many users could be turning it on and fully enjoying their watch.
Android Wear is still a brand new platform and in its infancy, and we can expect tons of changes and improvements over the coming weeks and months. Earlier this month Google confirmed changes were coming soon, and Android Wear should receive an update to the Android L release later this fall.
If you were debating whether or not to get the Moto 360, this new update could be one reason worth checking it out.

This article may contain affiliate links. Click here for more details.