Moto 360 Deal Arrives as Apple Watch Release Nears
This week another Moto 360 smartwatch deal or discount has arrived that is offering one of the best smartwatch options running Google's Android Wear software for a low price. Over the past few weeks all the news has been about the upcoming Apple Watch, and this deal could be a result of exactly that, the Apple Watch release date.
Since being announced and released last year the Moto 360 has been the most popular and most successful Android Wear smartwatch released. It has a stunning round design, leather strap along with a nice stainless steel option, tons of watch faces and more, and now can be yours for even less.
Read: 5 Apple Watch Alternatives for Android Users
The Moto 360 debuted early last year, but didn't hit the market until September and has been rather popular, even if Android Wear and smartwatch sales have been lower than many expected. If you've been eying one, or don't want to spend the high price Apple is asking for the Apple Watch, the Moto 360 just received a huge price cut.
Last week we saw Amazon and some retailers like Best Buy cut a huge chunk out of the price of the Moto 360, and this week Google's doing the same. This could be just simply to sell more units before a Moto 360 2nd Generation is announced, or in part to steal some potential buyers away from the Apple Watch.
For now Apple's biggest rival is the Moto 360, along with other Android Wear smartwatches, and in what's likely an attempt to steal some thunder Google and Motorola have dropped the price from $249, which has been the price all along, all the way down to $165 on the Google Store, and with free shipping as an added bonus.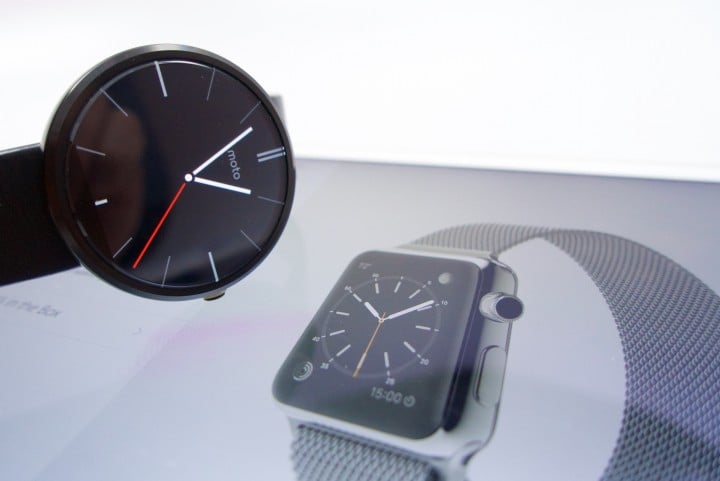 Last week the Apple Watch finally went up for pre-order, and the wearable gadget is expected to start shipping on or around April 24th, which is the official release date. And although we'll likely see a few surprises, early deliveries, and even some delays with so much hype around the device, it's coming soon.
At the same time, there has been countless reports that Google's been working hard to get Android Wear working on iOS, meaning that iPhone owners will soon be able to use the Moto 360 and other Android Wear smartwatches with the iPhone, rather than only with Android. If this is indeed the case, it could shake up the Apple Watch release, and give even more potential buyers a reason to get Google's latest, rather than the Apple Watch.
Read: Moto 360 Review
If Google does get Android Wear support working with the iPhone, users could potentially be interested in snagging the round, pretty, and very well made $165 Moto 360 vs the Apple Watch. For now it only works with Android devices, but that could change in the near future.
For now we're not sure if the nearly $100 discount is a permanent price cut for the Moto 360 smartwatch, or if this is just a temporary deal being offered up at the same time as the Apple Watch pre-order. Either way, getting the Moto 360 for $165 with free shipping is a pretty great deal, one that should have many potential buyers very interested. Previously it was $249, so this is the best price we've seen yet since being released.
If you've been on the fence regarding whether or not to buy the Moto 360, now it is at the lowest price ever, so buy one today from the Google Store.

As an Amazon Associate I earn from qualifying purchases.