Moto 360 Orders Shipping Ahead of Schedule
Earlier this month after weeks and weeks of waiting the new Moto 360 smartwatch was finally released for eager buyers. The initial launch in the first week of September didn't last long with inventory selling out within hours, but today we have good news for those who ordered the new Moto 360 during Motorola's second wave of availability.
Motorola's new smartwatch, the Moto 360, which is powered by Google's new Android Wear mobile operating system designed for wearable devices has been in and out of stock from all outlets. Everywhere from Motorola.com, Best Buy, and even the Google Play Store have been out of stock, and delaying shipments late into the month.
Read: Apple Watch vs Moto 360: Key Differences
After selling out on day one, September 16th Motorola re-opened its online store with more inventory, allowing prospective buyers to get the new watch. After placing orders many noticed shipping times estimated around September 28th, mine said September 30th, and many reports claimed it wouldn't arrive until sometime in October.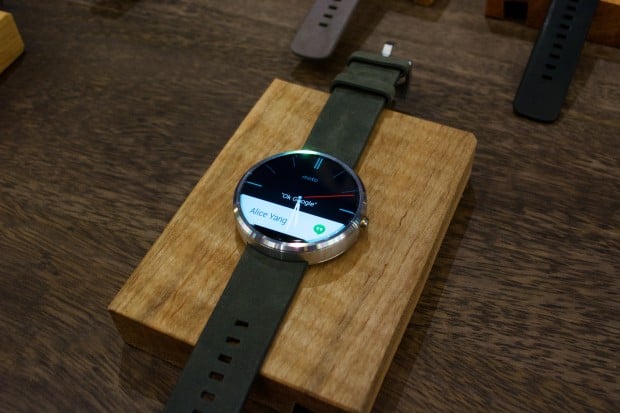 However, yesterday we received multiple reports that Motorola is ahead of schedule, and their inventory woes are starting to smooth out. Multiple tips arrived saying their new Moto 360 smartwatch had shipped over one week early. It's worth noting we saw the same increase from the Google Play Store as well.
In an official blog post a few weeks ago Motorola detailed tons of their upcoming products release dates and availability, then at the bottom confirmed what many hopeful Moto 360 buyers have been waiting to hear. That more stock will be available soon.
Initially those who ordered on September 16th were sad when they saw the estimated October or late September ship dates, but thankfully Motorola is ahead of schedule. Today is the 23rd and our order which was scheduled to ship on September 30th has already shipped on Monday. Meaning the company is a full week ahead of schedule.
We ordered a Moto 360 from Motorola.com on the 16th, and expected a delivery sometime in October. However, it will be here tomorrow with 2-day delivery as an option.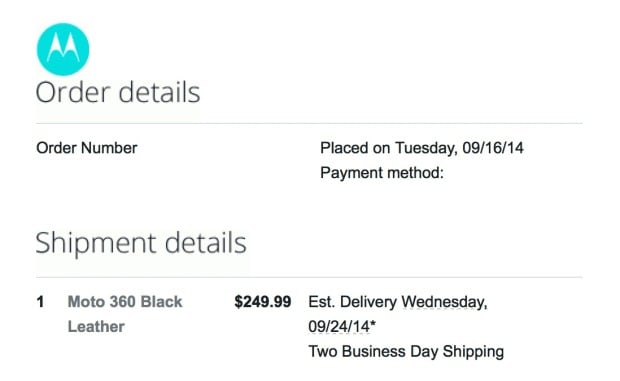 Overall the Moto 360 release hasn't been very smooth. It was delayed over two months longer than the first two Android Wear watches, appears to not have the best battery life compared to the others, and doesn't have customization like many expected from the Motorola teaser videos leading up to the release.
That being said, more and more reports have arrived that suggest multiple other options are coming soon. Once the initial excitement dies down Motorola will be releasing an all metal (or stainless steel) Moto 360 for $279, rumored for November 11th. There's also been a few reports of a Gold Moto 360 coming soon too, so we'll keep an eye out for more details.
Read: Metal Moto 360 Release Date Emerges
Motorola is finally coming around and making the popular device more readily available. For now the Moto 360 will continue to sell out until more stock becomes available, but hopefully the situation is calming down. It's still listed as out of stock from Best Buy, Google Play, and Motorola's own store, but with shipments arriving early expects more stock to be available to purchase in the near future.
Buyers can get it in all black, or silver with a grey leather strap for $249, and the all stainless steal variant is expected to arrive in soon. Stay tuned for more details, and drop us a comment below if your order shipped early too.