Moto 360 Orders Shipping Out Early
After months of waiting through rumors and tons of hype the brand new Moto 360 Android Wear smartwatch finally arrived last week for buyers, but sold out almost immediately. Those who waited around for it only to see it sell out were frustrated, but today we have good news. The Moto 360 is now shipping out early.
While the initial release was extremely limited, selling out within hours from multiple outlets, Motorola is working hard to fix the problem and deliver more units to eager buyers. On Monday Motorola announced pre-orders for the new Moto X smartphone, but also updated prospective buyers on the Moto 360 release woes.
Read: Apple Watch vs Moto 360: 6 Key Differences
Stock from Motorola.com and the Google Play Store were gone on the first day, and have slowly been arriving to buyers. This week a few more arrived for Motorola that quickly sold out, and we've seen stock quickly come and go from the Google Play Store and Best Buy stores. However, it looks like at least a few users will be happy to know Google is shipping out the Moto 360 a week earlier than expected.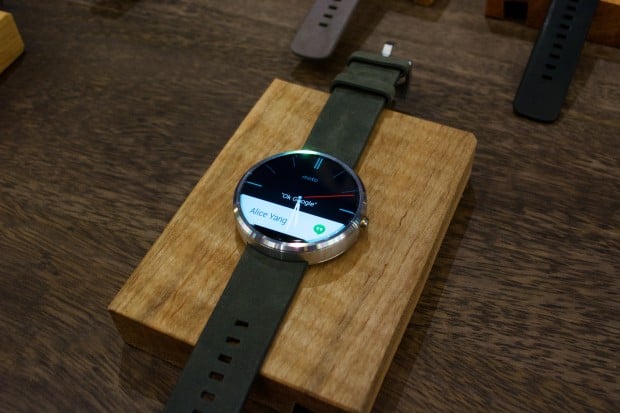 In an official blog post Motorola detailed tons of their upcoming products release dates and availability, then at the bottom confirmed what many hopeful Moto 360 buyers have been waiting to hear. That more stock will be available soon. Tuesday they made it available again, but shipping estimates put the device out of reach. Buyers were sad to see that after the ordered, the expected ship dates are in late September, and some were pushed into October.
This means if you bought the Moto 360 from Motorola this week, you probably won't receive it until late next week, or possibly not until October. The release hasn't been smooth, to say the least, but we do have some good news.
We ordered the Moto 360 direct from the Google Play store on September 9th before it was sold out, and Google promised the smartwatch would ship on or before September 25th. Which is a little over a 2-week delay from the purchase date.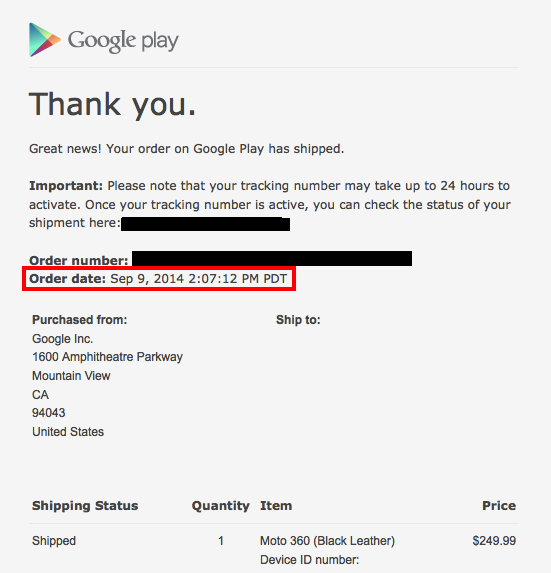 Today though, it shipped. We've received multiple reports from buyers of the Moto 360 on the Google Play Store with similar results. Hinting that at least Google (and possibly Motorola) have received extra stock of the Moto 360 smartwatch and are now filling orders nearly a week sooner than expected.
Our Moto 360 has now shipped, when it originally stated the 25th. Google offers 2-day shipping, and it looks like we'll have it tomorrow.
Read: Metal Moto 360 Release Date Emerges
Overall the Moto 360 release hasn't been very smooth. It was delayed over two months longer than the first two Android Wear watches, appears to not have the best battery life compared to the others, and doesn't have customization like many expected from the Motorola teaser videos leading up to the release.
That all being said, Motorola is finally coming around and making the popular device more readily available. For now the Moto 360 will continue to sell out til more stock becomes available, but hopefully the situation is calming down. Buyers can get it in black with a black strap, or silver with a grey leather strap for $249, and an all stainless steal variant is expected to arrive in November. Stay tuned for more details, and we'll update once we learn more information from Best Buy, Motorola, or others.
Did your Moto 360 smartwatch order from Google Play or Motorola ship early? Let us know in the comments below!