Moto 360 Price Leaks as Release Date Nears
The Moto 360 release date is still a mystery for now, as is the price, but with the release date quickly approaching more and more leaked are starting to emerge with addition information. Last week a gallery of images and specs leaked, and this weekend Best Buy revealed the price.
Google first revealed Android Wear in March, which was met by announcements of the Moto 360 and an LG G Watch, and since then both LG and Samsung have launched their watches while those waiting for the Moto 360 wait in silence. However, it looks like early next month it may finally arrive, and for a price lower than many expected.
Read: Moto 360 Release Date and Rumor Breakdown
Along with a new Moto X+1 and Moto G2 smartphone, the Motorola Moto 360 smartwatch will be announced live on stage at an event on September 4th. Motorola sent out invites last week for their press event, teasing multiple new devices, and now Best Buy has revealed all the details.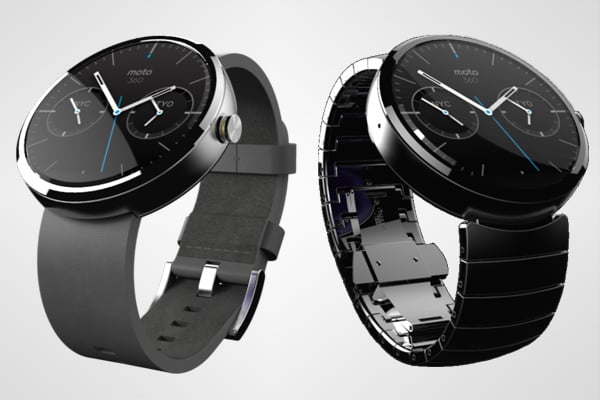 The link above is a Best Buy product page which details every aspect of the upcoming Moto 360 smartwatch. We knew most of the important specs and details already, but it shares everything that was still a mystery. Some of those being the 1.5-inch 320 x 290 resolution display. The Gear Live is 320 x 320.
The Best Buy product page (has since been removed) shared one other key detail that prospective buyers and fans have been waiting for since March, and that's the price tag. According to leaks, Best Buy claims the Moto 360 will be priced at $249.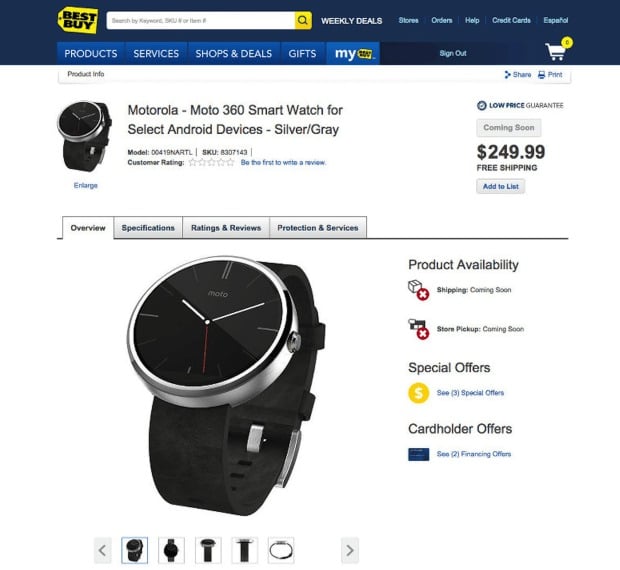 This isn't the first time we've seen pricing details leak for the highly anticipated new Android Wear-powered smartwatch, but this time it's from the highly reputable Best Buy. Last month a few leaks suggested $279 from a UK based site, which also removed their product pages, so we can't say for sure until Motorola reveals everything come September 4th.
It's worth noting that the device pictured above from Motorola is the stock, plastic watch strap version of the Moto 360. We're hearing $249 will be the entry level price for the new Moto 360, with the leather straps being an additional $25 from MotoMaker.com making it $275. There's also multiple images from their initial announcement in March suggesting metal options will also be available, likely making the Moto 360 price tag reach the $300 mark.
Read: How to Change Watch Faces on Android Wear
The Moto 360 is expected to be one of the best Android Wear smartwatches of 2014, and has a traditional round watch design, rather than the squares we've seen from Samsung and LG. The company has been busy teasing a few features of the device, like the custom leather watch straps mentioned above by releasing quick 2-minute teaser videos, but all the official information has yet to be confirmed by Motorola.
Again, the Best Buy product page was removed, but of course we still have ways to see the details once it has been posted online. Below is a screenshot from the specs page, which is still active and has yet to be removed by BestBuy.com.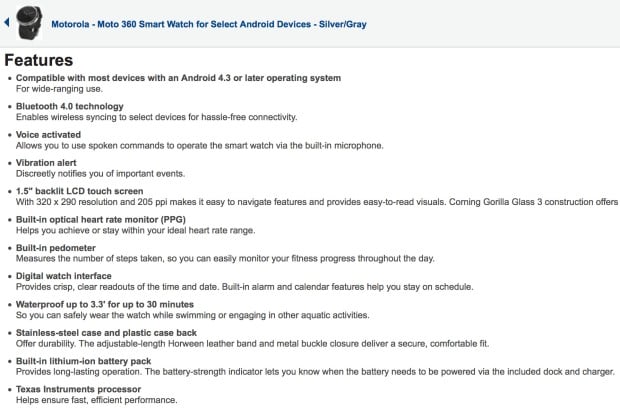 At this point there's little we don't know, but surely Motorola will have a few surprises for the official launch on September 4th in Chicago. The company is poised to announced two new smartphones, a new accessory, and of course the Moto 360 smartwatch.
Currently the two available Android Wear smartwatches are $199 and $229, so a $249 price point makes the Moto 360 the most expensive of the bunch, but with a design more popular amongst buyers and those who wear watches, it should be interesting to see how well it sells.
Last but not least, a few reports suggest that following the Moto X2, G2, and 360 reveal on September 4th, Motorola will release all three products to the market on September 10th, possibly in a few bundle deals. We'll know all the details soon enough, so stay tuned.