Moto 360 Release: 5 Things You Need to Know
The Moto 360 release date is almost here as Motorola prepares to announce a slew of new devices early next month, and you'll want to know everything once it arrives. The company confirmed September 4th they'll be hosting an event to show off the new Moto X+1, the Moto G2, Moto 360, and an accessory of some type.
When the Moto 360 smartwatch running Google's new Android Wear operating system was first revealed in March it instantly gained traction with consumers and enthusiasts. Delivering a sleek round watch experience that also runs a new Android-based mobile operating system designed strictly for wearable devices.
Read: Moto 360 Release Date and Rumor Breakdown
Google first revealed Android Wear back in March, which was met by announcements of the Moto 360 and an LG G Watch, but since then the details have been very few and far between. The device was a big part of Google's I/O developer event in June, but again, no release date was mentioned. For now there's two options available running Android Wear, the Moto 360 and more are coming next month and beyond. Here's what we know so far, and everything prospective buyers will need to know
With two Android Wear-powered watched already available, consumers have either grabbed one or are anxiously awaiting the Moto 360 instead. One of the biggest questions buyers have regarding the Moto 360 smartwatch is when can they get one, and for how much. Both Google and Motorola have been silent on a release, claiming "this summer" with no further details, but everything is finally starting to come together.
Over the past few months more and more details have continued to surface regarding the new smartwatch, and we basically know everything already before it gets revealed on September 4th. However, we still don't have an official price, although Best Buy leaked that recently, nor the actual date you'll be able to buy one. That said, here's what we know, and what rumors are suggesting.
Release Date
First things first, when will the Moto 360 get released? According to an array of leaks the date for the release is the same day as the new Moto X+1 smartphone. Those initially suggested middle August, which clearly won't be happening, so we'll have to assume it will be the date we've been hearing for the Moto X+1 release date.
Multiple leaks from UK retailers, as well as some "official sources" from GSMArena suggest September 10th will be the global release date of the Moto 360, Moto X+1, and the new Moto G.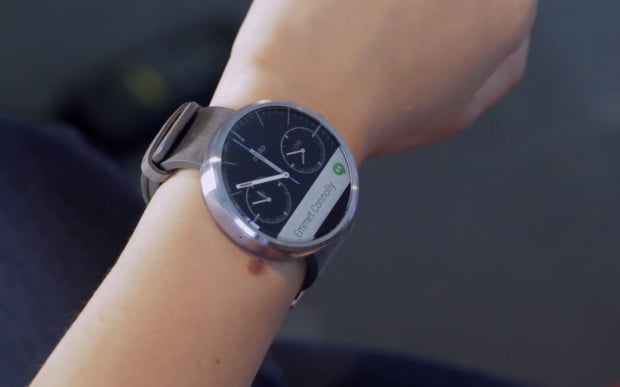 This has yet to be confirmed, but we've seen multiple different sources all suggest something around the beginning of September. Not to mention the Moto event on September 4th is hinting at devices being released to press that day, meaning a release date should follow very quickly.
Google's also been sending out emails to Google I/O attendees stating they'll be receiving a free Moto 360 for attending their developer event, and those suggest an early September shipment as well.
Price
The price has been somewhat of a mystery thus far, but given the other two devices available today are $199 and $229, we didn't expect Motorola to venture too far north of those price ranges. While various reports have suggested a $279 asking price, last week Best Buy spilled all the beans early. Not only confirming all the specs we'll mention below, but the price.
According to Best Buy the base Moto 360 (plastic strap) will be $249. They don't go into any other details, but we already know the Moto 360 will come in an array of options. There's the plastic strap, a metal option, and most likely select leather options will also be included.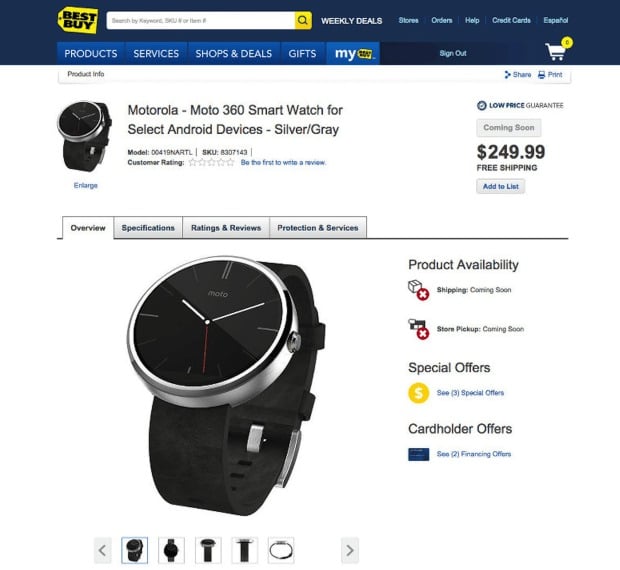 The $279 rumor could be based on the metal band variant, which makes sense, and users can potentially expect the same $279 price to be on board for the custom leather options. Again, these are all rumors, and we only have a few more weeks to wait before Motorola makes it official.
Customization
Just like the popular Moto X smartphone that launched last year, it appears as if Motorola will have a pile of customization options for the Moto 360 smartwatch. For one, we're hearing it will launch at the same time as the new customizable Moto X+1 smartphone, and a recent video teases tons of customization for the Moto 360 smartwatch.
Below is a video released by Motorola talking about the design of the Moto 360. It's only 60 seconds long but we see them eying how it looks next to a pallet of leather colors, suggesting users will have an array of different leather, plastic, and metal watch bands available at launch.
So far we're hearing users will get to choose between a black or silver aluminum watch face, then multiple textures, colors, and materials for the watch band. Those include plastic, metal, and of course leather. MotoMaker.com is likely the platform in which customization will be available, with the regular plain options being at Best Buy, or other online retailers.
Specs
So what will that $249 or higher price get you with an Android Wear-powered Moto 360 smartwatch? Well, probably the best smartwatch available to date, and one that the competition may not be able to match until the holiday season, or later.
At this point we know what the Moto 360 looks like, how Android Wear operates after using the other watches available already, but the final specs of the Moto 360 have yet to be announced. The Gear live has a smaller 1.63-inch screen with a high 320 x 320 resolution, while the G Watch is 1.65-inches and only 280 x 280. So clearly Google is making any certain requirements here. At least that we know of.
Read: LG G Watch vs Samsung Gear Live: Battle of Android Wear
The final details may not be announced yet, but Best Buy pretty much shared everything we didn't know in that leak mentioned above. Here's what to expect.
Moto 360 Specs (Rumored)
1.5-inch 320 x 290 backlit LED display
Gorilla Glass 3 for protection form scratches (no sapphire)
Texas Instrument processor
Android Wear OS
Qi Wireless Charging
Pedometer, heart rate monitor, more
Bluetooth 4.0
Waterproof
Now we knew most of this already, so there's little that was revealed here. This confirms the screen is 1.5-inches, but that's about it. We don't know what processor is powering this device, or how long the battery will last. The Gear Live has a 300 mAh battery, while the LG G Watch is 400, so that could play a major role in the 360 once it arrives.
Availability
Come September 4th we'll likely hear exactly what Motorola has planned, if not, it will shortly follow. We can assume the Moto 360 will be available from the Google Play Store, MotoMaker.com, Best Buy, Amazon, and a slew of other online retailers once it becomes available.
We could also see a few carriers jump on board, like Verizon or AT&T and offer a version with data included, but at this point that remains to be seen. All Android Wear watches rely on a connection to a smartphone for data, and that likely won't be changing anytime soon. That doesn't mean carriers won't offer bundles of the Moto X+1 and 360 together. So we'll have to wait and see.
There will be a lot of competition for Motorola in the coming weeks or months, and some of those may get announced at IFA the first week of September as the Moto 360 release date arrives. We're hearing a new watch from LG and Samsung could make a debut, ASUS will have a new Android Wear watch to show, and leaks suggest another squared-off HTC Wear One is coming as well.
It will be a busy month for Android Wear, and tech users in general, but stay tuned as we'll have all the details as they're announced lived by Motorola come September 4th.

This article may contain affiliate links. Click here for more details.