Moto 360 Release Nears as More Details Leak
While the Moto 360 release date still remains a mystery, we know nearly everything about the impressive new Android Wear smartwatch well ahead of the potential launch date. Since first being announced back in March as Google unveiled Android Wear, its new Android-based operating system for wearables, it's been a highly anticipated device.
Google first revealed Android Wear in March, which was met by announcements of the Moto 360 and an LG G Watch, but since then the details have been very few and far between. Last month Google launched the LG G Watch and Samsung Gear Live, both which are available today from the Google Play Store. However, the Moto 360 which was one of the first devices announced, is still missing in action.
Read: 10 Moto 360 App Concepts You Need to See
With two Android Wear-powered watched already available, consumers have either grabbed one or are anxiously awaiting the Moto 360 instead. Motorola keeps saying it will arrive "later this summer" but most likely an August release date is in sight. That being said, what we do know is everything else about the smartwatch, especially after a huge leak full of pictures and details appeared online this week.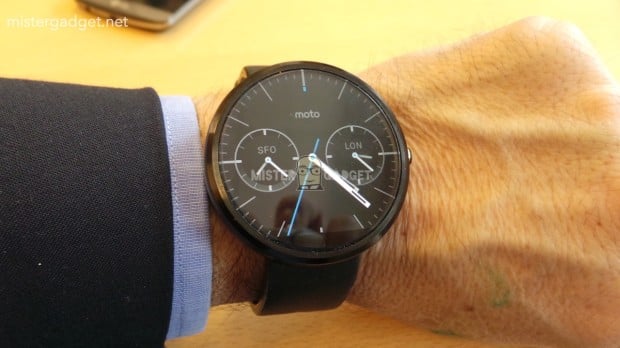 The Moto 360 is expected to be one of the best Android Wear smartwatches of 2014, and has a traditional round watch design, rather than the squares we've seen from Samsung and LG. The company has been busy teasing a few features of the device, custom leather watch straps, and releasing quick 2-minute teaser videos, but all the official information is still a complete secret.
However, those secrets have been fully unveiled in a major leak this week sharing everything about the Moto 360 ahead of the release date. A massive gallery of photos confirms wireless charging, tons of other features Motorola was hiding when they let press try the device at Google I/O, and the leak even compares the size to the current LG G Watch.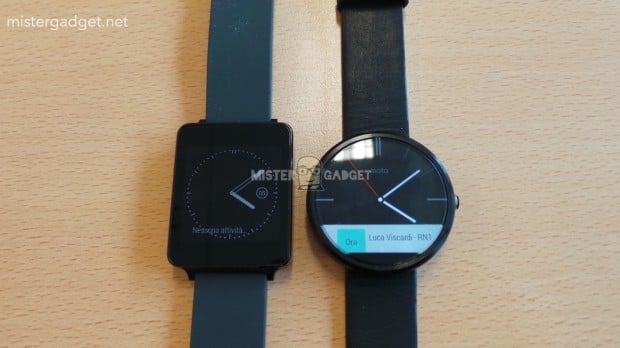 Thanks to Mr. Gadget, the Moto 360 mysteries are now known, and prospective buyers will simply have to wait for a release date to emerge. The stickers hiding all the details back in June have been removed, and here's what we know.
The Moto 360 will be made of stainless steel and sapphire crystal glass on top, sports an IP 67 dust and water-resistant certification, an optical heart rate sensor, pedometer, and as we've seen in the past it will support Qi Wireless charging. No goofy charging docks to snap on and fumble around with like the LG G Watch or Samsung Gear Live.
Read: How to Change Watch Faces on Android Wear
Whether the screen is actually bigger or not, we'll let you decide from the images, but the round design appears to give users more real-estate to work with and swipe through settings and controls. Then, the biggest news of the leak is regarding battery life. The 360 does appear to be rather thick, but Mr. Gadget claims the battery life is roughly 2.5 greater than the LG G Watch. The G Watch has a 400 mAh battery and barely lasts a single day.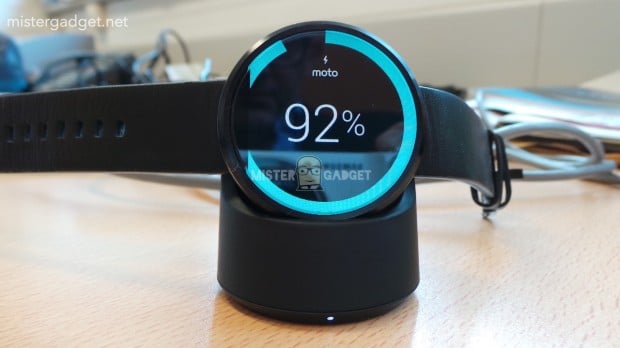 This means the incoming Moto 360 could have a large battery packed inside allowing users to go 2-3 days on a single charge, then just drop it on the wireless QI dock pictured here today for a charge whenever needed, or overnight. In fact, he mentions like usage could net buyers 3-4 days on a single charge, but that seems unlikely.
According to the leak not all the apps currently available for Android Wear like the LG G Watch work correctly with the round display of the Moto 360, but developers will be able to quickly accommodate the different size or shapes with app updates.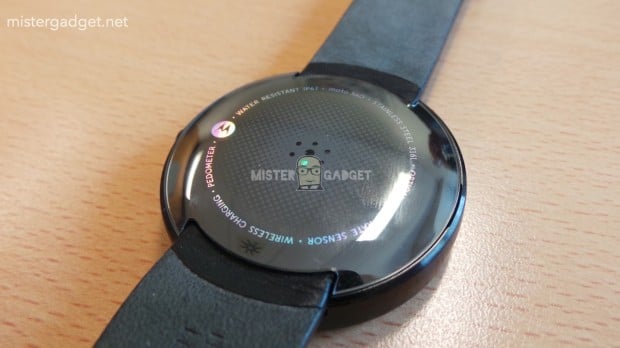 Last but not least the leakster tips that there's multiple watch straps available, and his unit has black leather, as shown in the pictures above. We've seen leaks suggest upwards of six different colors will be available from MotoMaker.com, but we'll have to wait and see.
After all these months there's still no solid release date, but rumors have it being officially unveiled in August. Those suggest a late August or early September release date for the new Moto 360.